• Pennsylvania State Police will be conducting sobriety checkpoints during the Memorial Day weekend, May 26 through 29.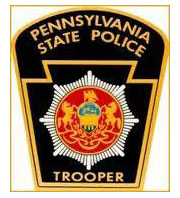 • Police said they took Leshay Antoinette Roland, 23, of Philadelphia, into custody on retail theft charges following an incident in the East Marlborough Township Walmart on May 13.
• An unidentified 45-year-old woman was arrested after police found marijuana and drug paraphernalia in her vehicle during a traffic stop on Route 52 in Pocopson Township on May 10.
• Two women, both 26 years old, were charged with retail theft after they tried to from a store on Schoolhouse Road in East Marlborough Township on May 9. State police identified the women as Jordan Renée Crampton, of Avondale, and Alexandra Leigh Woolfolk, of Landenberg.
• State police said James Daniel Yannuzzi, 18, was in possession of marijuana when he was stopped for a traffic violation on May 8. The report said the odor of marijuana was coming from the car when he was stopped.
• An unidentified man from Concord Township was arrested for harassment following a domestic dispute on Christopher Drive in Concord Township on May 7.
• An unnamed 52-year-old man from Avondale was arrested for DUI following a one-vehicle crash on West Cypress Street in Kennett Township. The incident happened at 11:13 p.m. on May 5.
• State police reported they are looking for a man they described as "a tall, heavy-set black male" wearing a leather jacket in connection with a retail theft of seven Gucci brand eyeglass frames at Pearle Vision in the Shops at Brinton Lake. The theft took place at 4:09 p.m. on May 5. Anyone with information regarding the suspect's identity should phone police at 484-840-1000.
• Police said four Concord Township residents were victimized when someone broke into their vehicles parked on Shavertown Road and stole $22 in U.S. currency. The incidents reportedly happened at 3:45 a.m. on April 30.
• Josue Vazquez, 25, of West Grove was arrested for DUI following a traffic stop along Route 1 at Newark Road in New Garden Township on April 26
• On April 21, Steven Ellis Walter, 41, of Millsboro, Del., was determined to be DUI following a traffic stop on Hillendale Road in Pennsbury, according to a state police report.

See Contributors Page http://chaddsfordlive.com/writers/
Comments
comments