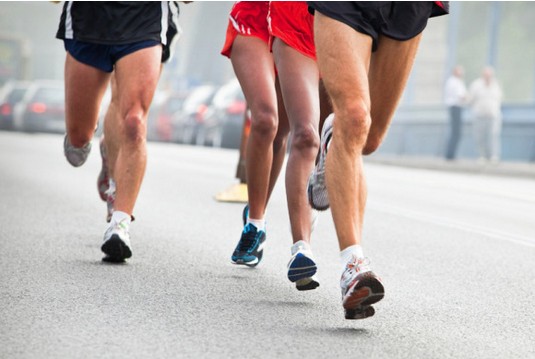 Spring is officially here. As the days get longer and temperatures rise, now is the perfect time to sign up for a race to motivate yourself to get into better shape. The most popular distance out there is the 5K, which stands for five kilometers – just over three miles. If the sound of that doesn't make you cringe, then keep reading for a stepwise guide to properly train for a 5K.
Step 1: Choose Wisely
Ideally, pick a race that is at least two, and preferably three months away to allow enough time to prepare. Make sure you know the course, as varying terrain such as hills and mud can add unexpected challenges. Think about picking a training partner who can motivate you and vice versa.
Step 2: Build a Base
The temptation for most people is to run too fast too soon, which puts you at increased risk of injury. So always plan to build an endurance base of slower running for the first 4-6 weeks of your training. During this phase, you'll focus on increasing your aerobic capacity. Start with a distance that you're comfortable running, whether this is a quarter-mile, or three miles. You can break up your running with walking breaks to build up your distance if needed. Your running pace should be at which you can hold a conversation. Dedicate one day a week as your "long run" to build your endurance, which should be about 25 percent of your weekly mileage.
Step 3: Rest
Make sure you allow enough time to let your body recover between runs to help prevent injury. To do this, try running every other day, or cross train between runs by biking, swimming or doing other gym cardio exercise like the elliptical machine.
Step 4: Speed It Up
After building your base, it's time to speed things up by adding one day a week of faster running. A good first workout to try is called a "fartlek." This involves mixing faster running (at a pace where you can no longer hold a conversation) with slower running. The typical ratio is 3:2, or three minutes of faster running followed by two minutes of slower running, then repeating this 3-5 times. As your fitness improves, you can increase the number of repeats, or time spent running faster.
After you get comfortable with running faster, the next step is to run faster for a prolonged period of time for a "tempo run." The key to this workout, is running at "tempo pace," which is in between your slow and fast running pace. Tempo runs usually start around 10 minutes, then you can increase the time spent on your tempo run as each week progresses.
Step 5:  The Week Before
You should actually start to decrease your running the week before a race, which is called "tapering" to make sure you feel good on race day. Try to sleep well and eat plenty of carbohydrates several days leading up to the race. Try to avoid making any sudden changes to your routine the week before the race. This includes diet, shoes and workouts.  On race day, you'll probably feel some pre-race jitters, but relax and use that energy to power through to the finish line.
About the Author
Dr. DuPrey specializes in sports medicine and enjoys working with patients of all ages and abilities to allow them to return to the activities they enjoy in the safest and most effective manner. His holistic approach is to look at the whole picture and help prevent future injuries.

Crozer-Keystone Health System's physicians, specialists and advanced practitioners are committed to improving the health of our community through patient-centered, quality care across a full continuum of health services. Crozer Brinton Lake is Crozer-Keystone's comprehensive outpatient care facility in western Delaware County, offering primary care, specialty services, outpatient surgery and advanced cancer treatment. Contact us: 300 Evergreen Drive, Glen Mills, PA 19342 http://www.crozerkeystone.org/Brinton-Lake 1-855-254-7425
Comments
comments