Kenneth E. Workman, 71, died at his residence on Wednesday, April 12, after a courageous battle with cancer. He was the husband of Sheri Sylvina Workman, with whom he shared 19 years of marriage.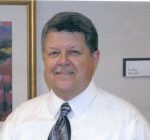 Born in Dover, Del., he was the son of Helen Dixon Workman of Avondale, and the late Ralph Workman.
He was the vice president of operations at Meadowwood Retirement Community, Worcester, retiring in 2016. He was the former director of Campus Ministries at Tupelo Children's Mansion.
Kenneth was a graduate of Dover Central High School. He studied music and education at West Chester University, and studied social work at the University of Mississippi and he also studied Business at Century College.
He enjoyed the beach, gardening, music, trips to Disney World and being with his family, especially his grandchildren.
He served his country in the U.S. Navy.
In addition to his wife and mother, he is survived by two daughters, Jennifer Workman Meehan and her husband Brian of Newark, and Kristen Rushing and her husband Paul of West Grove; four grandchildren, Lauren, Brian, Emily and Olivia; a brother-in-law, Michael Sylvina and his wife Suzanne of West Grove.
He was predeceased by his maternal grandparents, Dewey and Ida Dixon and his paternal grandparents, Earl and Anna Workman.
You are invited to visit with his family and friends from 10 to 11 a.m. Wednesday, April 19, at the Kuzo & Grieco Funeral Home, 250 West State Street, Kennett Square. His Memorial service will follow at 11. Burial will be held privately.
In lieu of flowers, a contribution may be  made to the Ronald McDonald House of Delaware, 1901 Rockland Road, Wilmington, DE 19803
Online condolences may be made by visiting www.griecocares.com
See Contributors Page http://chaddsfordlive.com/writers/
Comments
comments