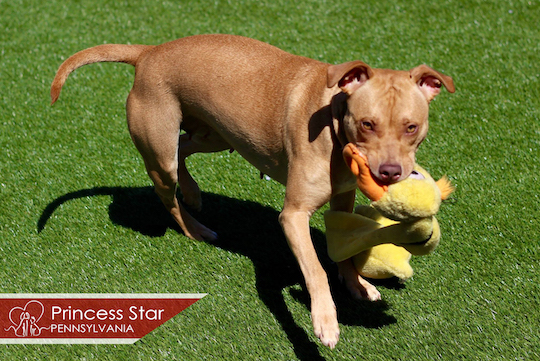 Come meet all the wonderful animals available now for adoption at the Brandywine Valley SPCA. All featured pets are "Name Your Price" adoption fee until Monday, April 17. Not ready to adopt? Then sponsor a pet and provide a safe place for our companions to rest until they find their forever homes. Help us give them a second chance at a fresh start.
PRINCESS STAR
Got cats? That's great. I've lived with cats and kids; they're my friends. My name is Princess Star and I was brought to Brandywine Valley SPCA through the Second Chance Program. I'm at the shelter because my owner became very ill and couldn't take care of me anymore. I'm a petite princess, weighing only 40 pounds. I'm a young girl too, only 1 year old, and I love to play. I'm active, loving, and affectionate. I already know "sit," and I take treats very gently. I'm just an all around good, happy, wiggly, sweet little girl. Please come and meet me today.
KADEDRE
Just look at that happy face. My name is Kadedre and I'm on the search for a new family to call my own. I'm a 2-1/2-year-old brindle pit mix with a sweet and energetic temperament.  I arrived at the Brandywine Valley SPCA through the Second Chance Program and I hope that you'll give me a second chance to find happiness. I'm pretty much a one-dog show and don't really want to change that, so I'd have to be the only dog in my new home. Stop in and give me a chance. I'm sure we'll get along great.
BULLWINKLE
Meet Bullwinkle. This handsome stud came into the shelter as a stray, and he is eager to find his forever home. Bullwinkle is 3 years old and loves to play. He is great with other dogs and loves kids so he will adapt well to any loving home. Bullwinkle responds very well to treats. He knows "Sit," walks well on his leash, and loves his tennis ball.
GOLDY 
Hey folks, I'm Goldy, a handsome 7-year-old ginger and white tabby male looking for an awesome new family to share my life with. You could say that I'm a social butterfly. I love nothing more than meeting new people. I'm very friendly and will gladly interact with anyone who crosses my path. I have an inquisitive personality, so if adventure is your thing, I could definitely be the cat for you. Stop in and meet me, you surely won't be disappointed.
PUDDING
Hi. My name is Pudding and I am just as sweet as my name indicates. I'm 4 years old and absolutely stunning with my black and white coat and light green eyes. I'm an absolute doll and I'm looking for my new cuddle buddy. I'm very social and will happily crawl into your lap for some love and attention. I'm a bit of a diva and adore the spotlight, but I have no interest in competition, so it's important that I am the only cat in my new home. Won't you come meet me and let me love you?
LEELA 
Leela is a gorgeous 2-year-old shorthaired black cat with stunning gold eyes. While she is a little shy at first, once she warms up to you, she becomes quite friendly and will happily climb into your lap to be pet. Slightly introverted, she enjoys having a cozy little place of her own where she can snuggle up and hide away for a little while. She would do best in a quieter home with someone who can give her some space while she gets comfortable. Stop in and meet this volunteer favorite – she looks forward to meeting you.

See Contributors Page https://chaddsfordlive.com/writers/
Comments
comments