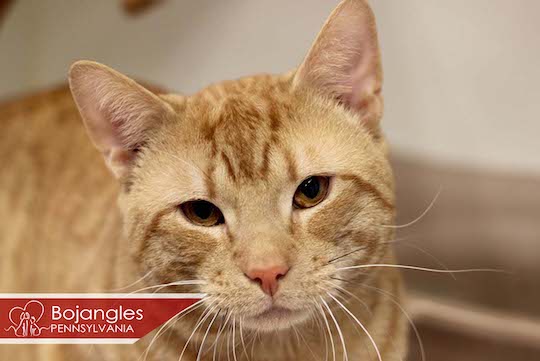 Come meet all the wonderful animals available now for adoption at the Brandywine Valley SPCA. All featured pets are "Name Your Price" adoption fee until Monday, March 28. Not ready to adopt? Then sponsor a pet and provide a safe place for our companions to rest until they find their forever homes. Help us give them a second chance at a fresh start.
BOJANGLES
Bojangles is a 2-year-old orange neutered male tabby. He was surrendered on March 3 because the owner was moving. He is a character as large as Bojangles himself. He is a vocal, handsome cat with lots of energy so finding life in a cage can be quite restricting for him. Given the chance, he struts around the cat room introducing himself. He is playful, enjoys the company of people, and is interactive. He would make a great companion cat. He is not too keen on other cats, as he prefers the company of humans. We would love to see this cat in a home; he would boss it.
DAISY
This is Daisy, a 13-year-old black and white spayed female who was surrendered after owner bereavement on Feb. 25. When she first arrived, she was an older cat unsure as to why she was in a shelter rather than her home. She has been a sweetheart from the start. She likes attention, and is on the quiet side, but is getting quieter and more withdrawn. She would really love a new home to call her own. She was moved into a top cage where she can see more and be a part of the action. She loves it. She is like a different lady. She enjoys wet food and watching what goes on. Please come meet her today and see why everyone loves her. Seniors make great pets.
EMBER
My name is Ember, and I'm sure to melt your heart. I'm a quiet, gentle boy who loves to cuddle and get belly scratches. At just 2 years old, I'm looking for a family to love me forever, because forever is a very long time. I currently live with other cats in my group housing here, and my friends at the shelter have noticed that I do well with kids and might do ok with dogs, too, with the right intro. What more could a family ask for?
BIG CASS
Hello there, my name is Big Cass. I'm a 1-year-old mixed breed who came to the Brandywine Valley SPCA through the Second Chance Program. The staff and volunteers just love me. I'm such a character who loves playing with toys in the snow. I'm very strong and still learning my manners, so I would need to be with an experienced handler who has the time, dedication and patience to help me learn the ropes. I seem to love everyone I meet, but would need to meet everyone in the family before going home with them, human and furry. Come and see me today.
BEAUTY
My name is Beauty, and as you can tell, they gave me the name because I am so beautiful. I am a 1-year-old mixed breed who was brought the Brandywine Valley SPCA through the Second Chance Program. I am a super sweet girl who likes going on walks and playing in the play yard, especially if you have toys to toss around. I have been in play groups before, but was a bit too dominant to play appropriately. I would probably need to be an only pet, but could be walked around other dogs, if given direction. I can be a bit jumpy so I am looking for a forever family who has patience and dedication to show me basic manners. I would need to meet all members of the family before going home with them and would be best with older children. I have so much love in my heart to give, please come meet me today and see how I can change your world but better yet, change mine.
ROBIN HOOD
Good Day, my name is Robin Hood and I'm here to steal your heart. I'm a dashing 2-year-old terrier mix who came into the shelter as a stray. I'm looking for a forever family to call my own. Could that be you? If so, I'm neutered, vaccinated, microchipped and ready to go. Stop by and meet me today. I'm sure I'll win you over.
See Contributors Page http://chaddsfordlive.com/writers/
Comments
comments