• State police from the Media barracks are investigating a burglary in Concord Township. A report said someone entered a home through an unlocked door on Marlborough Lane sometime between 2 and 4 p.m. on March 8 and stole two pieces of jewelry.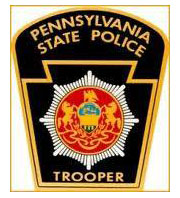 • Michael Anthony Scandle, 26, of Brookhaven was charged with drug possession in Concord Township on Feb. 20. Police said Scandle was found with a small amount of marijuana in his possession.
• State police said they apprehended a man wanted in Delaware. According to a report, troopers stopped a white truck because of an equipment violation on March 8 on Wilmington Pike and learned the driver was wanted in Delaware.
• State police from the Avondale barracks said someone stole a loaded firearm from a vehicle parked at 503 Schoolhouse Road in East Marlborough Township on March 6. The incident took place sometime between 6:30 a.m. and 4:30 p.m.
• Police said two black males, possibly from Philadelphia, used three counterfeit $100 bills to buy a $295 Green Dot Visa Gift card from the Walgreens on Route 1 in East Marlborough Township on March 9. Anyone with information is asked to phone Tpr. Ryan Ard at 610-268-2022.
• Two 10-year-old boys in Pennsbury Township got into a fracas on Feb. 20. Police said one of them hit the other in the head with a rock and then hit him several times with a fiberglass stake.
• James Nicholas Neel, 25, of Kennett Square, was arrested for DUI according to a state police report. Police said Neel ran off Rokeby Road in West Marlborough Township and struck a tree at 1 a.m. on Feb. 10.
See Contributors Page http://chaddsfordlive.com/writers/
Comments
comments