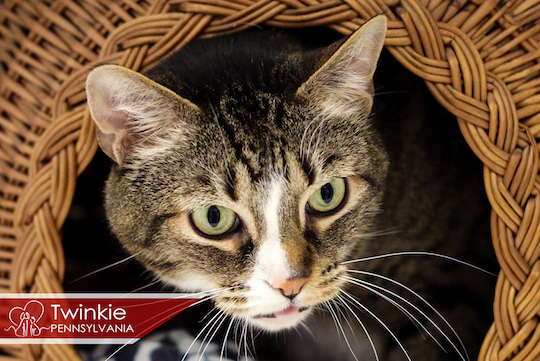 Come meet all the wonderful animals available now for adoption at the Brandywine Valley SPCA. All featured pets are "Name Your Price" adoption fee until Monday, March 13. Not ready to adopt? Then sponsor a pet and provide a safe place for our companions to rest until they find their forever homes. Help us give them a second chance at a fresh start.
TWINKIE
Greetings. I'm Twinkie and I'm a 6-year-old neutered male who was surrendered on Jan.18 due to allergies. I'm a brown tabby with white trim. I'm a bit timid and shy and can frighten easily, but can also be very lovable and affectionate when I feel comfortable. Being scratched behind my ears is my favorite. I love lounging in my teepee (it keeps me calm) and enjoying treats and catnip. My best features are my saucer-size eyes. Aren't I handsome? I respond better to a quieter approach with little background noise and will require an experienced cat owner with no small children or dogs. I'm looking for a forever home with someone who will be patient with me as I learn to trust again and build my confidence. Will you be the one?
BAILEY
Hello, I'm Bailey, a 3-year-old neutered male with an orange and white medium-haired coat. I was surrendered on Feb. 18 with my sisters and brothers because my owner could no longer care for us. I'm a slim guy, and a little on the shy side when you first meet me, but then watch me warm up. I like attention and belly rubs. I am cat-friendly and like to explore. Come and meet me today and see why everyone loves me.
CALI
These eyes are definitely the windows into my beautiful soul. And I'm as sweet as I am beautiful. A kind person found me wandering lost and alone. I'm just a year old and looking forward to spending many years wrapped in the love and safety of a forever family. Could it be yours?
BUSTER
Hi there! My name's Buster and I'm an 8-year-old shepherd mix who came to the shelter after being found tied up outside with a note. Who could ever leave this face? I've been very shy and scared since then because I can't seem to figure out what I did wrong, so I'm going to need someone that's willing to be patient with me and wants to show me what true love really is. I had a kennel mate who I grew very fond of, so I would really love to be with another dog. I'm housebroken and walk well on a leash. I hope you'll come in and meet me soon and show me what it's like to have a real family.
REX
Hello! Rex here, the big guy with the heart of gold. I am a 4-year-old mastiff who loves belly and ear rubs. I would love to be your one and only pet and show you my silly boy side. At 145 pounds, I may take up a little of that extra space next to you but it is nothing compared to all the room in your heart I will fill. Come meet me soon and let's get this soul mate thing started. Yours truly, Rex.
ONIX
They named me Onix because I am indeed a gem. I'm a sweet, easygoing guy who gets along with pretty much everyone I meet, two or four-legged. In fact, I've been co-housed with one of the dogs here who came from a cruelty case because he's super scared and I have such a calming effect. I'm 8 years old and looking to make my golden years the best ones of my life. Have room in your heart and home for a gentle giant like me?

See Contributors Page http://chaddsfordlive.com/writers/
Comments
comments