• Pennsylvania State Police from the Media barracks said the troop is looking for three black males who smashed windows of three unattended vehicles and stole three purses. Credit cards from those stolen purses were then used to make fraudulent purchases. The incidents took place on March 1, between 7:15 and 8:20 p.m. at Empowered Yoga and The Brandywine Racquet Club on Route 202 in Concord Township.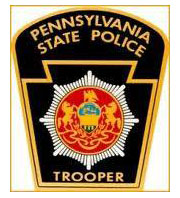 • On March 2, someone created two fake checks with the information of a Concord Township resident and fraudulently obtained $2,650 from the victim's account.
• State police are saying speed was the cause of a one-car accident in East Marlborough Township on March 5. A report said Brandon M. Paris, 28, of Wilmington, was cited after he ran off Walnut Road, at East Locust Lane, and crashed into a fire hydrant at 2:16 a.m. No injuries were reported.
• State police said both drivers were cited for their involvement in a two-car crash in East Marlborough on Feb. 10. According to the report, Morgan N. Thrasher, 19, of West Grove, and Jonquil D. Patterson, 29, of Kennett Square, were charged. The crash happened at the Street Road entrance to the Landhope Farms. Police said Thrasher was heading east and was moving into the left hand lane of Street Road, while Patterson was exiting the store lot and tried to turn left to go west. Neither driver saw the other car because of a school bus that was stopped at the red light. Thrasher T-boned Patterson's car, police said. Both cars were disabled, but no injuries were reported.
• Kennett Township police reported three burglaries in the township in March. On Feb. 8, someone stole various jewelry items from a home in the 800 block of Creek Road. On Feb. 16, unknown suspects gained entry into a home on Round Hill Road through a rear garage door window. Jewelry was stolen. Also on Feb. 16, someone entered a home on Kaolin Road through an open bedroom patio door. Police said the house had been rummaged through, but nothing was taken. If anyone has any information concerning these burglaries please dial 911 or call Kennett Township Police at 610-388-2874.
See Contributors Page http://chaddsfordlive.com/writers/
Comments
comments