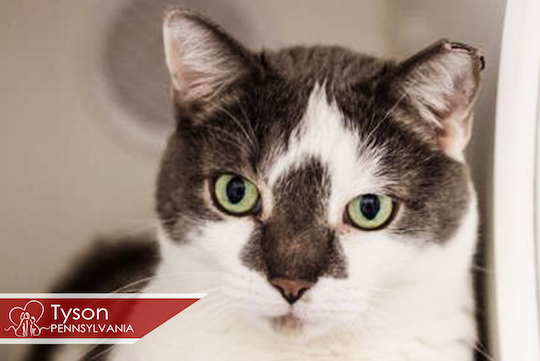 Come meet all the wonderful animals available now for adoption at the Brandywine Valley SPCA. All featured pets are "Name Your Price" adoption fee until Monday, March 6. Not ready to adopt? Then sponsor a pet and provide a safe place for our companions to rest until they find their forever homes. Help us give them a second chance at a fresh start.
TYSON
Hello, my name is Tyson and I am a 6-year-old neutered male who is grey and white. I was a stray who arrived at the shelter on Dec. 30. I am handsome with an independent personality who may only show my true character when I am in my forever home. I love treats, catnip and lounging around. I would do best as the only cat in the house with older children. Are you looking for a new feline companion? Come meet me today.
CATNISS
Hi there! My name is Catniss and I am a 5-year-old domestic shorthair who was brought to the Brandywine Valley SPCA through the Second Chance Program. I am super sweet, social and vocal. I enjoy being pet and receiving any attention I can get. I would do well with other cats and would be great with children. Sounds great, right? Stop in today and meet me. You just might fall in love.
KALEB
Looking for a sweet, laid back, friendly feline? I'm your man. You'll know me as the first cat to greet you when you come to our Blue Cat Cottage cat room. I do well with my cat pals here, but what I really want is a cuddle buddy. I'm just two years old and ready to share a lifetime of love with a forever family.
POINT
Hi there. My name's Point. I'm a 4-year-old, medium sized (60 pounds) mixed breed, who was surrendered to the shelter for "unrealistic expectations." Not sure what that means, but the volunteers and staff here tell me I'm a really good boy. I love, love, love to be petted, especially chin and ear scratches. I like to be held like a baby, too. I'm housetrained (but may need a refresher), and I've lived with older kids. I'm super smart and I already know "sit" and "paw." I'd love for you to teach me some new tricks. Come meet me today.
GRADY
Hello, my name is Grady. I am a 2-year-old mixed breed who was originally found roaming the streets as a stray and was brought into the shelter through the Second Chance Program. Understandably, I was a little shy in the kennel, but I'm making fast friends. I am strong and energetic, but also love to be snuggled. Don't you? I like to give kisses and have my head scratched, who doesn't? Will you be the one to choose me as your new best friend and give me a loving forever home?
HONEY
My pooch pals and I were a big story in the press – 20 of us rescued from a hoarder in Millsboro. We didn't know there could be a better way to live, but I'm learning about something called love. I'm still a little hesitant with people because it's all new to me, but when you catch my wiggle butt going we all know my potential. Dogs are another story. I love my dog friends. I'm hoping to go to a home with kind and gentle adults, maybe with older kids, and with a dog to show me the ropes. Ready to show a sweetie like me what love is all about?

See Contributors Page https://chaddsfordlive.com/writers/
Comments
comments