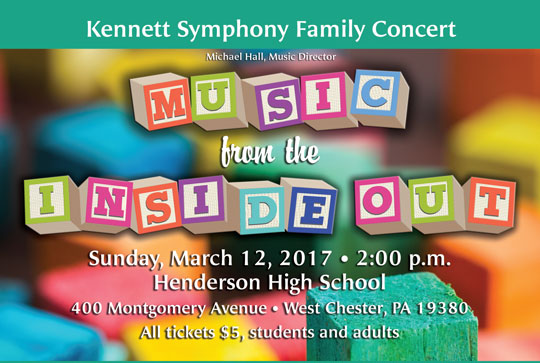 • The bonfire fundraiser for Save the Valley is this Saturday, March 4, at Ramsey's Farm, 500 Ramsey Road in Wilmington. The vent runs from 5-9 p.m. and the cost is $10 per person. Children under 6 get in free. The rain date is March 11.
• Chester County's Department of Drug Alcohol Services announces Chester County's participation in "Black Balloon Overdose Awareness Day" on Monday, March 6, a day remembering not only those lost to the disease of addiction, but the friends and family of the loved ones left behind. Chester County will be joining communities across the nation, encouraging individuals and organizations to come together and publically display a black balloon outside of their homes, businesses or in the community. The display of the black balloons is a sign that an individual has been affected by drug addiction or an overdose death.
• The Radley Art Show is scheduled for Friday and Saturday, March 10 and 11 at the Radley Run Country Club. Friday's opening night runs from 6 to 10 p.m. and features hors d'eouvres, music and a cash bar. Saturday's session is from 10 a.m. to 3 p.m. offers quitter viewing and a silent auction that closes at 1:30 p.m. The exhibit features work from 50 local artists, including one piece by Chadds Ford's Karl Kuerner. Proceeds from sales benefit Community Volunteers in Medicine and the Chester County Art Association.
• The Charles F. Patton Middle School presents "Lion King Jr." on March 10 and 11 at 7 p.m., and March 12 at 3 p.m. Performances will be held in the newly renovated Patton Middle School auditorium. Tickets are $10 students/seniors and $15 adults.
• The Kennett Symphony of Chester County, under the direction of Music Director, Michael Hall, will present "Music From The Inside Out" at its annual Family Concert on Sunday, March 12, 2 p.m., at Henderson High School Auditorium in West Chester. This year, the concert looks at music from the inside out, discovering the building blocks of music — harmony, melody, rhythm and texture — and finding out how they work together to produce unforgettable moments. Kids even get to try out the instruments of the orchestra and meet the musicians of the symphony. All tickets are $5 per person and seating is reserved. For tickets, visit www.kennettsymphony.org or call the Kennett Symphony at 610-444-6363.
• Dale Kerns, who is seeking the Libertarian Party nomination for U.S. Senate, will hold a Town Talk event "Addiction is Not a Crime" on Sunday, March 12 at 11 a.m. at the Clarion Philadelphia Airport Hotel at 76 Industrial Highway in Essington. This event, inspired by Kerns' own recent loss of a loved one to drug addiction, is intended to show the negative impact that the criminalization of addiction has on families and homes. It also addresses how criminalization makes the growing drug epidemic significantly worse, and how legalization makes things better.
• The Brandywine River Museum of Art invites families to enjoy early access to the galleries and a variety of creative activities during Sensory-Friendly Saturdays, an accessible program designed specifically for visitors on the autism spectrum or with sensory processing disorders. The event is Saturday, March 18, from 8:30 to 10 a.m. Created in conjunction with occupational therapists and local families, this inclusive program strives to provide a welcoming experience. Space is limited and registration is required. For more information or to register, contact Laura Westmoreland at 610-388-8120 or lwestmoreland@brandywine.org. Sensory-Friendly Saturdays are sponsored by PECO.
• Did you know that rattle-skull, syllabub, and bogus were all names for mixed drinks in the 18th century? Visit the Chadds Ford Historical Society for this month's Tavern Talks at the Barns-Brinton House on Route 1 on Thursday, March 23 from 7-9 p.m. as we cover the topic of Colonial "Cocktails." Samples will be available from featured participants including Thistle Finch Distillery, Frank's Wine, and Greenbank Mills & Philips Farm. Tavern Talks is a monthly experience aimed exclusively for adults 21 and older that focuses on unexplored aspects of early American history and culture. Admission is $20 for non-members and $15 for members. Tickets must be purchased in advance over the phone, in person or online as space is limited.
• The MLK CommUNITY of the Greater Kennett Area kicks off their Food Drive starting March 20 and it runs until March 31. Historically, the food drive was organized on the Dr. Martin Luther King, Jr.'s Day of Sharing, however, this year it will be conducted later. Food items that are in the most demand include, but not limited to: canned vegetables and low sugar fruit, tomato sauce, fresh produce, rice, pasta, oatmeal, dried beans, tuna, and peanut butter. Once items are collected, you can conveniently drop off your donations directly to the KACS Food Cupboard any day between Monday – Friday from 9 a.m. to 5 p.m. Special volunteers will be at KACS on Friday, March 31 from 3 – 6 p.m. and then on Saturday, April 1 from 8 a.m. to noon. Please visit KACS website for location information at: www.kacsonline.net.
• Canine Partners for Life, a nonprofit organization that trains service dogs for individuals with a wide range of disabilities, has launched an $8.5 million capital campaign, The Partnership for Independence Campaign. This campaign will create facilities that are safe, accessible, appropriately sized, and respectful of the needs of the population of people they serve. The construction project will be done in two phases and CPL is proud to announce they have raised more than $5.4 million and expect to break ground on phase one, the Marian S. Ware Program Services Center, in March.

See Contributors Page https://chaddsfordlive.com/writers/
Comments
comments