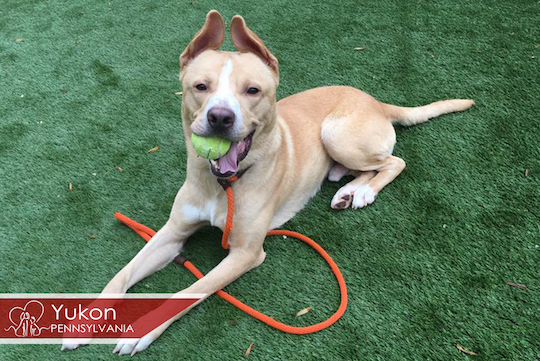 Come meet all the wonderful animals available now for adoption at the Brandywine Valley SPCA. All featured pets are "Name Your Price" adoption fee until Monday, Feb. 27. Not ready to adopt? Then sponsor a pet and provide a safe place for our companions to rest until they find their forever homes. Help us give them a second chance at a fresh start.
YUKON
Hi, my name is Yukon. I am a 3-year-old Siberian husky mix, an athletic and energetic boy, who would be a great running partner. I am a volunteer and staff favorite, who is super friendly and walks well on the leash with the EZ walk. I am also very smart. I know sit, and am working on other commands. I can play a bit rough with other animals, so would probably need to be the only pet. I'm still working on my manners, but I am having lots of fun while I'm here. I love playing fetch with tennis balls in the dog yard! Come meet me today and see why the staff and volunteers love me.
RIVER
Hello there, my name's River. I'm a sweet 3-year-old Great Dane mix, and I am definitely a family dog. I love people of all types, and I especially love kids. I would prefer to be the king of the castle and be an only pet, mainly because I need all the love I can get. I am neutered, microchipped and up to date on all my vaccinations, all I need now is a loving family to call my own. Don't let my size fool you. I'm nothing but a big teddy bear.
HOLLY
Girls just wanna have fun, at least this girl, anyway. Holly's my name, and playing is my game. I'm hoping for an active family with older kids and adults who will include me in their long walks, hikes and other outdoor fun. I'd prefer a home without cats, and I'd love to meet any other dogs in the house to see if we're a match. Who's ready to fall for my cuteness?
DIAMOND
Aren't I a gem? That's why they call me Diamond. I am a 7-year-old, spayed, female, longhaired white/brown tabby mix. I am a petite, shy, beautiful lady — if you overlook my snaggle tooth. But I think it adds to my uniqueness. I like a quiet life, as I startle easily. I would prefer wet food to dry food and would do best in a quiet home with an adopter who has time to meet my needs and fuss over me. I was brought to the shelter after my owner died and I'm still working on settling in – won't you come meet me today? I would love to go home with you.
LEON
Hello. My name is Leon and I am a 3-year-old FIV+ male orange tabby. I was originally found as a stray and the nice girl who found me took care of me, got me neutered and got me everything I needed, but unfortunately she couldn't give me a home. Can you? Don't let my condition scare you. FIV + kitties can have long, healthy lives. I'm as sweet as can be and deserve a forever home. Won't you come in and meet me?
SOMBRA
Hi there, my name is Sombra. Somebody told me I'm named after a pretty cool character in a video game. I'm good with the pretty cool part. I'm a quiet kitty, so I'm not sure about the video game part. You'll find me nestled in my cubby in the cat room watching the world around me. I reward the kind folks who sit on the floor by my cubby with a sweet visit and gander at my gorgeous coat. I'm just 4 years young and looking to spend forever in a home that will show me the love I need to bring me out of my tortoise shell.

See Contributors Page https://chaddsfordlive.com/writers/
Comments
comments