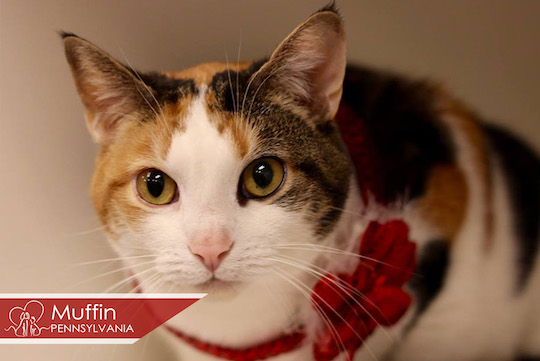 Come meet all the wonderful animals available now for adoption at the Brandywine Valley SPCA. All featured pets are "Name Your Price" adoption fee until Monday, Feb. 20. Not ready to adopt? Then sponsor a pet and provide a safe place for our companions to rest until they find their forever homes. Help us give them a second chance at a fresh start.
MUFFIN
Hi, my name is Muffin. I am a 6-year-old spayed female who was surrendered on Jan. 18. I am an orange and white calico who arrived with my siblings terrified of everything. I am finding it hard to adjust to shelter life and prefer to hide to get through it all. I am now starting to be somewhat more comfortable within my surroundings, even enjoying the volunteers' attention, petting, grooming and general socialization. It will take me some time to readjust to yet another change but it could be so worth the event and the wait. I am looking for generally quiet home with a patient introduction from a kind adopter. If you think you might be able to give me a forever home, please come see me.
THADDEUS
I'm Thaddaeus, a neutered male, 5-year-old black and white domestic shorthair who was surrendered on Nov. 16. My person passed away after five years of companionship and I found myself at the BVSPCA panic stricken and terrified. It has taken the team months of patience and gentle kindness but finally I am making some progress. I now sit outside my teepee where I have been hiding for safety's sake! In order to continue with this improvement, I will need an experienced cat owner with a quiet home and time to continue the work. Are you up for the adventure?
JAMESON
Good day. My name is Jameson and I'm a handsome, 3-year-old gentleman looking for a forever family to spend my days with. I have a great, outgoing personality and I love to spend my time playing or cuddling with my human friends. I get along with other cats, so if you already have some feline pals at home, I'd love to meet them. Stop by the New Castle shelter and visit me today – I think we'd be really happy together.
GRACIOUS
Hello, my name is Gracious. I arrived at the Brandywine Valley SPCA as a stray. I am a high-energy pup who loves going for walks in the sunshine. I need to be in a home that doesn't have cats or other small animals. I am particular with my canine friends, so be sure you bring them in to meet me. I seem to be okay with older children but can get over stimulated, so they have to be patient with me as I learn the rules of the house. I am spayed, microchipped and up to date on vaccinations. Please come meet me today.
MARIO
Hi. My name is Mario. I am a high-energy pup with a zest for life. I love playing in the yard, chasing balls and fake chickens (toys) and food puzzles.I would need to be in a home with older children, but I would love to meet your canine kids to see if we can become best friends. I'm looking for an experienced adopter who is willing to work with me on my manners. I have done playgroups here before, but still need some work acting appropriately. I can be vocal and play a little rough, since I don't really know how to play. Will you show me? Will you help me learn to become a part of your loving family?
CAROLINE
"Sweet Caroline, good times never seemed so good." That's my dream song for when I get adopted. I'm a sweet little 6-year-old gem looking for someone to show me that the world is full of love. I'd like to be someone's one and only in an adult home so I can blossom.

See Contributors Page http://chaddsfordlive.com/writers/
Comments
comments