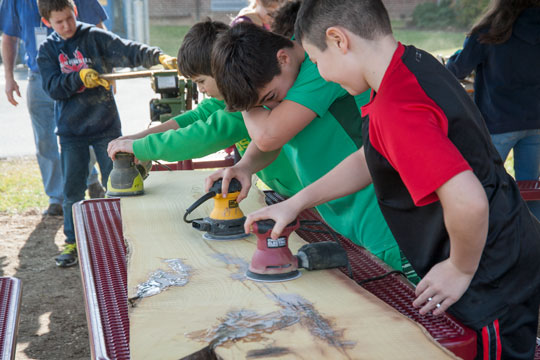 • Fifth-grade students at Chadds Ford Elementary School sand planks cut from an old mulberry tree. The planks will become a bench that will be left at the school as part of the Fifth-grade Leave Behind Project. Parent-advisor Paul Koch oversaw the sanding operation. (See top photo.)
• The Chadds Ford Gallery opens a new exhibit "Passages" on Friday, Feb. 10. Works from local artists such as Karl Kuerner, Jacalyn Beam Judith McCabe Jarvis, Robert Stack and Barbara Tlush depicting various means and ways of travel are featured. The opening runs from 5-8 p.m. and the exhibit continues through Feb. 26.
• Chadds Ford residents Azelie Faia, 16, and her sister Catherine Faia, 13 will perform in a unique chamber ballet concert on Sunday, Feb. 12 at 3 p.m. in the Meagher Theatre at Neumann University. The Academy of International Ballet is featured on this concert along with Dasha Bukhartseva and Jennifer Nicole Campbell playing piano four hands. The program opens with Franz Schubert's "Fantasy in F Minor" followed by one of Campbell's original works entitled "Butterfly Whispers." General admission is $12,$10 for seniors.
• On Tuesday, Feb. 28, and again on March 28, the Brandywine River Museum of Art is offering "ARTZ: Make memories at the museum," from 10 to 11 a.m. The program welcomes a small group of visitors with dementia and their care partners to museums and art centers where they can view and discuss art in a supportive setting. ARTZ Philadelphia was founded on the belief that people living with dementia should be accorded the benefits of wellbeing and quality of life that others enjoy.
• The Kennett Area Senior Center offers Zumba and line dancing classes on Thursday evenings. Zumba is from 5-6 p.m. and line dancing is from 6:30-8 p.m. Both are fee-based classes. Call for information: 610-444-4819. Stop in some Thursday evening and give these classes a try. You do not have to be a KASC member to attend these classes. Zumba is open to all age groups.
• The griddles will be fired up to serve hundreds of pancakes as the Elam United Methodist Church hosts Boy Scout Troop 260's annual pancake breakfast fundraiser on Saturday, March 4, from 7 a.m. to noon. The menu will include all-you-can-eat pancakes, sausage, coffee, hot chocolate, and juice. Pancake toppings such as whipped cream, sprinkles, chocolate chips and blueberry sauce will be available at no extra charge. Community members are invited to enjoy a hot, delicious breakfast and help a good cause. All proceeds will help local Boy Scout Troop 260 support community activities and summer camp programs. Adult tickets are $7; seniors and children are $5.  Free admission is offered to Troop 260 Eagle Scouts The church is at 1063 Smithbridge Road, Glen Mills.

See Contributors Page http://chaddsfordlive.com/writers/
Comments
comments