• A 36-year-old Concord Township resident had his identity stolen in January and was charged several thousand dollars for merchandise he hadn't authorized. State police said the victim's personal information was used to open several credit cards in his name in Ohio and in Buffalo, N.Y.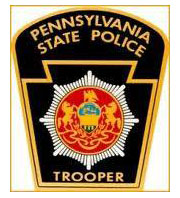 • State police from the Avondale barracks said Kim Lamont Gordy, 57, of Newark, was taken into custody on charges of DUI and possession of drugs and drug paraphernalia on Jan. 29 at 3:19 a.m. Troopers were responding to a report of a disabled vehicle on Marshall Bridge Road near Marshall Vale Lane in Kennett Township.
• State police are investigating a hit and run accident on W. Baltimore Pike in Kennett Township, on Jan. 14. A report said an unknown driver operating a gray SUV rear-ended another vehicle at 10:36 p.m. near Penns Manor Drive.
• A state police report said Danielle Gatlos, 27, of Nottingham, was found to be operating a motor vehicle while under the influence of alcohol on Dec. 8. The traffic stop was made 10:57 p.m. at W. Street Road and N. Mill Road in East Marlborough Township.
• Trever B. Tedesco, 23, of Kennett Square, was cited for driving at an unsafe speed following a one-vehicle accident on Wollaston Road in East Marlborough Township on Jan. 7, according to state police. A report said lost control of the car after driving over a snow-covered roadway. The Nissan Versa rolled over onto its side, but no injuries were reported.
• Southern Chester County regional Police said Jose Gomez-Cruz, 21, of Nottingham, was taken into custody on suspicion of DUI on Jan. 28. According to a report, Gomez-Cruz was found asleep in a vehicle with the engine running. There was also an open bottle of beer in the center console, and there was a strong odor of alcohol when they got the suspect to open the door, police said. The incident happened at 3:46 p.m. in the 300 block of Scarlet Road.
• On Jan. 27, at 4:14 a.m., Conner Herbert, 25, of Bear, was taken into custody for suspicion of DUI following a traffic stop in the 6700 block of Limestone Road, according to a Southern Chester County Regional Police report. According to that report, Herbert was stopped after he was observed driving erratically. A bottle of Bourbon was in plain sight, police said, and Herbert showed signs of impairment. Police also found a prescription for Herbert that clearly indicated it might impair the user's ability to operate a motor vehicle.
• On Thursday Jan. 26, at 1:23 p.m., police responded to the report of a medical emergency in the 100 block of E. Evergreen Street in West Grove Borough. Police found Patrick Walton, 62, in his residence with multiple empty bags of suspected heroin. More bags and a needle were also on the kitchen table,. He was transported to the hospital for his condition and advised charges would be filed for the possession of the paraphernalia.

See Contributors Page https://chaddsfordlive.com/writers/
Comments
comments