Chadds Ford Township's municipal building was packed to standing room only with residents wanting stop or modify a development plan in Concord Township.
At issue is a 20-plus acre parcel at Ridge Road and Route 202 where the Petinarro company was approved in 2009 to build a commercial development — The Shops at Ridge Road. The property abuts Chadds Ford Township.
As part of Concord's approval, Chadds Ford Township must sign off on proposed road improvements. However, Chadds Ford Township Supervisors' Chairman Frank Murphy told the packed house on Jan. 30 that he is not ready to do that.
"I won't sign off until I'm satisfied that our residents' concerns have been addressed," he said. "My understanding is they can't build this until I sign."
The plan calls for 21 retail pads, including three for restaurants and a large 58,000-square foot retail pad for an anchor store.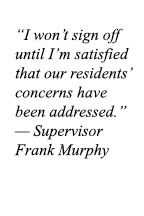 For Chadds Ford residents, especially those who live on or along Ridge Road, the concern is extra traffic and the fact that the main entrance into the property would be from Ridge Road, not Route 202.
Murphy asked the audience which was the biggest concern, tractor-trailers entering the property from 202 or the main entrance being on Ridge.
The majority response was "Both."
As planned, traffic driving south on 202 would be able to turn right into the property from 202, but northbound traffic would have to proceed to Ridge, turn left, and then turn left again across from the second entrance at the existing Olde Ridge Village, which is in Chadds Ford Township.
Fran Hanney, an engineer with PennDOT, said planned road improvements include widening Ridge Road from two to six lanes from Route 202 up to the Ridge Road entrance. Widening Ridge Road would allow for another improvement, he said, the elimination of the split-phased traffic signal at the Ridge Road 202 intersection.
Eliminating that split phasing would allow for eastbound traffic on Ridge and westbound traffic coming out of Glen Eagle Shopping Center to move at the same time.
Hanney said that is a much more efficient way to keep traffic flowing and prevent vehicles from stacking up at the intersection.
"Based on the [traffic study] numbers and nationally accepted standards, the [post improvement] intersection should function better," he said.
However, Chadds Ford residents remain skeptical over the original and follow up traffic studies PennDOT approved for the project.
According to Hanney, Petinarro, in 2014, did a follow up to its original traffic study. While not as extensive as the original — which looked at surrounding intersections — the follow up only looked at the intersection at Ridge and 202.
A number of residents, including Carolyn Daniels and Luci McClure, questioned the validity of the follow up because it wasn't a full study and didn't factor in traffic to and from Wegmans, which didn't open until November of 2015.
Another resident, David Ripson, read a portion of a letter from Monsignor Gregory Parlante, saying he was concerned for the safety of parishioners and students at St. Cornelius Church.
Specifically, Ripson read, "We don't want the major access on Ridge Road."
When asked whether the main entrance could be moved to Route 202, Petinarro representative Andrea Finerosky said that wouldn't work because of the split in that road.
Exactly what Chadds Ford Township can do and what effect any action would have remains a point of discussion and debate.
State Rep. Stephen Barrar, who was in attendance, said even Concord Township can't withdraw its approval of the plan.
Murphy suggested that if Chadds Ford performed its own study and that showed traffic projections to be worse than Petinarro's study, perhaps that would force PennDOT to re-evaluate its approval.
Hanney responded, "That's fair."

Rich Schwartzman has been reporting on events in the greater Chadds Ford area since September 2001 when he became the founding editor of The Chadds Ford Post. In April 2009 he became managing editor of ChaddsFordLive. He is also an award-winning photographer.
Comments
comments