• A Silver Springs, Md. woman, Katrina Coleman, was taken into custody in New Garden Township on Jan. 12. State police said there was a warrant for her arrest out of St. Charles Parish, La.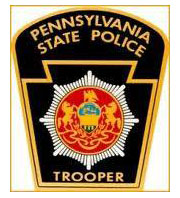 • State police from the Avondale barracks arrested a fugitive from justice on Nov. 7. A press release issued Jan. 20 said Matthew Pasher Cahall, of Millsboro Del., refused to leave a property on North Union Street in Kennett Township. Police said they identified Cahall and found a warrant for him out of Maryland. He faces extradition proceedings.
• State police are investigating a case of identity theft in Chadds Ford Township. On Jan. 15, a 59-year-old Chadds Ford man reported to state police that his identity was stolen in 2015. He said he had recently received a notice of a fraudulent Comcast account under his name.
• Police from the Avondale barracks said someone used a metal pole to break a rear windshield of a vehicle parked on Rodney Drive in Pocopson Township on Dec. 31. The incident was reported at 12:20 p.m. Anyone with information is asked to call police at 610- 268-2022.
• Sometime between Dec. 29 and Jan. 4, someone stole an axe, a Craftsman chainsaw and a Husqvarna chainsaw from a home on Brandywine Drive in Pocopson Township. Anyone with information is asked to call Tpr. Ryan Ard at 610-268-2022.
See Contributors Page http://chaddsfordlive.com/writers/
Comments
comments