Renowned composer Will Todd will join the Brandywine Valley Chorus and members of the Unionville High School Choir and Jazz Band in a special performance of his music on Saturday, Jan. 21, at Unionville High. Todd will accompany the singers on piano at the 7:30 pm concert, entitled "Will Todd: Amazing Grace."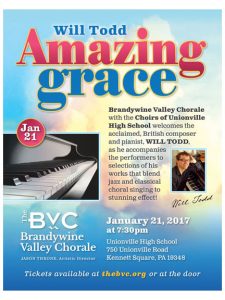 "We are honored to welcome a composer of Will Todd's extraordinary talent and stature to Unionville," said Jason Throne, director of the Brandywine Valley Chorale and choral director for Unionville High School. "This event will provide both our high school students and adult choir members with the unique opportunity to work directly with a composer who has become a trailblazer in the field of choral music throughout the world. I suspect that for some of these singers, the experience of working with Will Todd is one they will never forget."
A native of England, Todd's work has gained international recognition for his music's beauty, excitement and originality. His stirring arrangement of "Amazing Grace" was performed at President Barack Obama's 2013 inauguration day prayer service, and his original anthem, "The Call of Wisdom" was performed at the Queen's Diamond Jubilee in 2012. His music has been performed in countries around the world and encompasses choral works, opera, musical theater, orchestral pieces, jazz compositions and chamber music.
The evening will include performances of Todd's repertoire by the BVC, the UHS Chorale, and the UHS Chamber Choir. The UHS Jazz Band will accompany the singers for some of the musical numbers. At the end of the evening, all of the adult and student singers will join together on stage to perform Mr. Todd's glorious arrangement of "Amazing Grace" followed by a rousing rendition of his arrangement of "When The Saints Go Marching In."
Tickets for the concert are $15 for adults and $10 for students. They can be obtained at the BVC's website: www.thebvc.org and will also be available at the door. For information, please contact Ruth Russell at 610-347-0623.
Brandywine Valley Chorale is a 501(c) charity. Contributions are fully tax-deductible.

Comments
comments