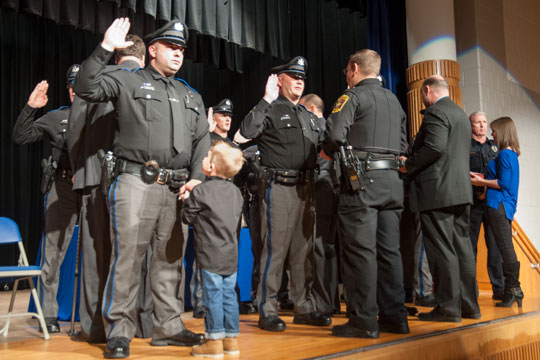 The newly formed Southern Chester County Regional Police Department was formally inaugurated with the swearing-in of 20 uniformed personnel Thursday night.
Police departments from two municipalities — New Garden Township and the borough of West Grove — were officially joined into one during the Jan. 12 ceremony held at Kennett Middle School.
Gerald Simpson, who had been the police chief in New Garden, is the chief of the new department, and former West Grove Police Chief Michael King is assistant chief. West Grove Mayor Stephen Black is the new department's commissioner.
During the ceremony, Black said joining the two forces into one had been under discussion for two years, and that it was done to provide high-quality policing that would better serve the community.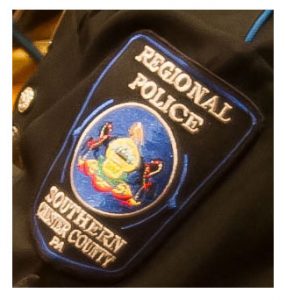 "We'll have the best [police department] in the region and hope other municipalities will get involved," Black said.
State Sen. Andrew Dinniman spoke briefly, saying regional policing is the way of the future. It conserves resources and saves taxpayers money.
Chester County Commission Chairman Michelle Kichline called the evening a "celebration of innovation and forward thinking."
Tom Hogan, Chester County district attorney, was the keynote speaker. Because the new department is the first of its kind in Southern Chester County, he asked, "What does it take to be the first and to succeed."
Using the Wright brothers and Lewis and Clark as examples, Hogan said it takes common sense, persistence and courage.
Hogan said the new department has common sense in the person of Simpson and persistence in the persons of King and its sergeant, Joseph Greenwalt.
Courage, he said, is coming from the officers, borough and township officials and from the citizens of the municipalities involved who stand with the police.
"It has the courage to be first and to succeed," Hogan said.
In his own closing remarks, Simpson said, "Our success will breed more success and the community will be better for it."

Rich Schwartzman has been reporting on events in the greater Chadds Ford area since September 2001 when he became the founding editor of The Chadds Ford Post. In April 2009 he became managing editor of ChaddsFordLive. He is also an award-winning photographer.
Comments
comments