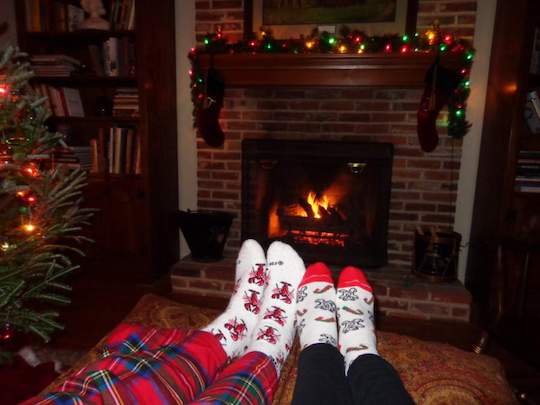 Hygge!
No, it's not a typo or some Klingon greeting, but:
-It's something that will come in very handy in the next two or three months;
-You can do it with your friends, with your significant other or even by yourself;
-The English language doesn't even have a translation for it;
-And while Brexit was the trending word in 2016, hygge was the runner up and is holding it's own in 2017.
That's a picture of Tom and me enjoying hygge.
Hygge is a Danish word pronounced, HOO-guh, and comes from a Norwegian word meaning "wellbeing," but encompasses the feeling of happiness, simplicity, warmth, coziness, security and comfort.
It's like the German word gemütlichkeit. There's no translation, but when you're relaxing in a biergarten with your family and friends, you know what it is.
It's the new feng shui with the necessary additions of happiness and warmth.
Hygge is the reason why five days after Epiphany, the Feast of the Three Kings, I haven't taken down our Christmas tree or the evergreen swag and mini lights on the fireplace mantle.
It just makes me feel happy.
Surprisingly, while we struggle with the winter blues or more seriously Seasonal Attitude Disorder in America, the Danish are counted as among the happiest people in the world – even in the winter.
And if you think those gray, 19-degree days we had last week were bad, pity the poor Danes. In winter Denmark has up to 17 hours of complete darkness and cold. Every day!
So just how do we attain hygge in the cold northeastern U.S.?
Above all, hygge is a peaceful state of mind where you appreciate the simplicity, happiness and yes, blessings of everyday life.
Light some big pillar candles with a great scent; put on an over-sized sweater and fluffy warm socks; pull your most comfy chair up to the fireplace; drape yourself with a chunky wool throw; read a classic book and bring on the cocoa in a great mug.
Don't have a fireplace?
Download this to your computer: https://www.youtube.com/watch?v=0fYL_qiDYf0.
Ahhhhh.
And since hygge goes better with two or more, you might even invite your best friends in for a quiet morning coffee with warm apple doughnuts, or an evening with mulled cider and iced ginger cookies.
(By the way, watching "Criminal Minds" while sipping vodka on the rocks, is not hygge.)
Journalists have argued that hygge is much easier to attain in a small country like Denmark where the crime rate is virtually non-existent and its citizens enjoy allegedly free health care, free university education, as well as excellent unemployment benefits (albeit with a tax rate often over 60 percent).
And yes, I will readily admit, since I've been retired for three years, hygge is a lot easier to attain. I still feel just a tiny bit guilty especially in the morning when I'm sitting by our fireplace, sipping my brewed French roast coffee with a warm cat on my lap and thinking about how I don't have to drive to work in the driving rain or snow. (Hey, I paid my dues.)
But one thing that we can all take home with us while sipping that mug of hot chocolate under furry throws, with warm nubby socks, is the last sentence on a hygge website.
"Hygge is about being - not having."
I like that.
Have a Happy Hygge Winter!

Sally Denk Hoey, is a Gemini - one part music and one part history. She holds a masters degree cum laude from the School of Music at West Chester University. She taught 14 years in both public and private school. Her CD "Bard of the Brandywine" was critically received during her almost 30 years as a folk singer. She currently cantors masses at St Agnes Church in West Chester where she also performs with the select Motet Choir. A recognized historian, Sally serves as a judge-captain for the south-east Pennsylvania regionals of the National History Day Competition. She has served as president of the Brandywine Battlefield Park Associates as well as the Sanderson Museum in Chadds Ford where she now curates the violin collection. Sally re-enacted with the 43rd Regiment of Foot and the 2nd Pennsylvania Regiment for 19 years where she interpreted the role of a campfollower at encampments in Valley Forge, Williamsburg, Va., Monmouth, N.J. and Lexington and Concord, Mass. Sally is married to her college classmate, Thomas Hoey, otherwise known as "Mr. Sousa."
Comments
comments