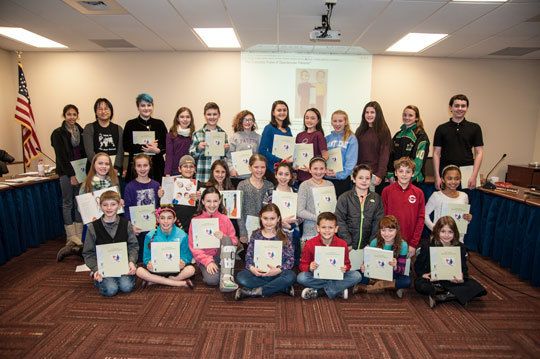 A group of 50 Unionville-Chadds Ford School District students can now claim to be published artists. Their artwork has been included in in the book "The Everyday Rules of Spectacular Parents."
The book is published by Capital Reath Associates, whose owner, Randall Stutman, is a friend of U-CF Superintendent John Sanville.
Sanville said the rules were ideas Stutman picked up as a consultant for Fortune 500 companies.
Stutman chose 50 rules for the book and solicited the artwork to illustrate the rules. More than 2,400 pieces of art submitted by students in the district's Visual Art Department had to be pared down to 50, one for each rule.
Prior to the start of the Jan. 9 school board work session, the students were each given a copy of the book and they all signed one to give to the board.
The book is not currently for sale. The author is giving it to clients, but Sanville said there is a chance for general publication at a later date.

See Contributors Page https://chaddsfordlive.com/writers/
Comments
comments