• State police from the Media barracks arrested an unidentified 49-year-old white male from Concord Township for DUI on Dec. 15. The arrest was made at 10:26 p.m. on Route 1 at Evergreen Road. Police said the accused admitted to drinking just prior to being stopped.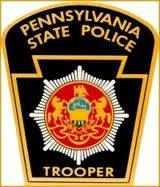 • Christopher B. Lovelund, 34, of West Chester, was arrested for DUI on Route 202 in Chadds Ford Township on Dec. 28, according to a    police report. The report said troopers were called to the scene at 9:17 p.m. because a driver had fallen asleep and was blocking the roadway.
• State police from the Avondale barracks said they cited Deborah L. Pettit, 57, of West Chester, after she failed to stop for a red light and struck another vehicle. The accident happened at 7:19 p.m. on Dec. 25 on Street Road at East Doe Run Road in East Marlborough Township.
• An 82-year-old man from Claymont was injured in a one-vehicle accident on Hillendale Road in Kennett Township on Dec. 24. State police said Alfred Anthony was driving westbound when he lost control of his vehicle while crossing Route 52, struck two mailboxes and came to rest on an embankment. Police said the injury was minor.
• Angel Luis Feliciano, of West Chester, was found to be in possession of drug paraphernalia during a traffic stop in West Marlborough Township, according to state police. The stop was made at 1:08 a.m. on Dec. 25 on Doe Run Road. Charges were filed, police said.
• State police said Brian Alan Henriksen, 26, of Landenberg, faces multiple charges after a chase in East Marlborough Township on Dec. 4. According to a report, Henriksen was seen driving erratically at high speeds on School House Road near Route 926 at 2:40 a.m. The report said the accused tried to conceal himself from troopers by extinguishing his headlights and making a U-turn in a shopping center. He then tried driving away before fleeing his car, the report continued. He was eventually ordered to the ground and taken into custody. Police said they found marijuana in the car.  He was charged with DUI, possession of marijuana and paraphernalia and with various traffic offenses.
• An inoperable headlight led to the arrest of a Toughkenamon man for drug possession. State police said Edgar Rodriguez, 24, was stopped for the faulty light on Newark Road in New Garden Township at 8:34 a.m. on Dec. 24. The report said marijuana and paraphernalia were found in the vehicle.
• Clifford Lee Hatfield, 23, of Chester, was determined to be DUI at 1:54 a.m. on Nov. 25, according to a state police report. Police said Hatfield was seen swerving on West Cypress Street in Kennett Square.
• Police arrested Michael G. Shockley Jr., 33, of Media, for DUI at 12:10 a.m. on Dec. 11 as he was getting gas at the Wawa on Route 1 in East Marlborough Township. The report said Shockley was visibly intoxicated.
• Kennett Township police said Noah Hall, 19, of Kennett Square, was attested for DUI following a one-vehicle crash on South Fairville Road on Dec. 21. Police said Hall struck a telephone pole.
• Kennett Township Police are investigating a Dec. 16 theft that took place in the 600 block of Norway Road. A green and blue Chevrolet Silverado was stopped at the victim's residence late that day. Police said the occupants of the vehicle exited it and stole a 3-foot by 3-foot black and white resin lamb that was sitting in the victim's yard.  The lamb had a black face and black feet and weighs approximately 25-50 pounds. Anyone with any information regarding this incident please contact Kennett Township Police Department at 610-388-2874.
• Police are also investigating the theft from two vehicles parked in the 700 block of W. Baltimore Pike between 8 p.m. on Dec. 21 and 5 a.m. on Dec. 22. The vehicles passenger windows were smashed in order to gain entry. Various rolls of quarters, prepaid phone cards and cigarette cartons were taken from the vehicles.  If anyone has any information or security footage in that area, please contact Kennett Township Police Department at 610-388-2874.
• Christopher Chandler, 33, of Avondale, was arrested for DUI following a two-vehicle crash at E. Hallandale and Kaolin roads on Dec. 29.
See Contributors Page http://chaddsfordlive.com/writers/
Comments
comments