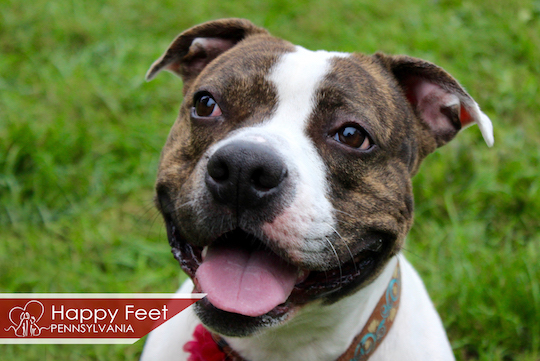 Come meet all the wonderful animals available now for adoption at the Brandywine Valley SPCA. All featured pets are "Name Your Price" adoption fee until Monday, Dec. 26. Not ready to adopt? Then sponsor a pet and provide a safe place for our companions to rest until they find their forever homes. Help us give them a second chance at a fresh start.
HAPPY FEET
Hello everyone, my name is Happy Feet and I arrived at the Brandywine Valley SPCA as a stray almost a year ago. I'm a little shorty, an adorable brindle and white girl with dancing feet when I am excited, which is how I got my name. I'm a little bundle of energy who is looking for an adopter who can keep pace with me, but I do walk well on a leash, so we can enjoy some nice strolls each day. Maybe we could go on runs together, have a spirited game of fetch or hike our way through Pennsylvania. I have participated in doggie playgroups and would do great with the right dog. I should be fine with children over 10, and I need an adopter who will help me gain confidence in new surroundings. I've been searching for my forever home for quite some time. Will you take me home today? You'll find me at the shelter taking a power nap or greeting you at the front of my kennel, with, you guessed it, my happy feet! I can't wait to meet you.
SANDY
Hi, I'm Sandy, a 2-year-old scruffy, but fluffy Schnauzer mix who can't wait to meet you. I was originally brought in last December as a stray. Sometimes it's a hard knock life here at the shelter, but I know that the sun will come out tomorrow. Yes, I was named after that lovable dog from the movie Annie, because besides our adorable good looks we are both smart and share the same sweet disposition and sweet demeanor. I am looking for an adopter who will be patient with me as I learn to be in a home environment again and teach me some basic manners. I am an active dog who would be a great jogging partner! While I must be the only dog in the household, I definitely have enough love for everyone. I know some commands and am even housebroken! So, what are you waiting for? You know you're never fully dressed without a smile, and I am certain to bring a smile to your life every day.
MISTLETOE
Happy Holidays. My name is Mistletoe, and I am a 1-and-a-half0year old terrier mix who arrived at the Brandywine Valley SPCA as a stray. I'm a little bundle of love who is as sweet as pumpkin pie. I listen well, walk easily on a leash and sit like a champ. I have the most adorable face that is positively squishable. I love attention, love to be loved and give love. Like my name indicates, when you are with me you will get kisses galore. Please make my holiday wish come true with a home of my own.
ODIE
This is Odie, a 6-year-old white and brown neutered male who was surrendered Dec. 9 because the owner was moving and couldn't take poor Odie with him. He is a quiet, gentle, laid-back, sweet, loyal, cat-friendly, all-round great family cat.
IGLOO
Igloo is a 2-year-old black and white neutered male stray who arrived at our shelter in mid-December He is confident, social and very cat friendly. He appears to be extremely cat social so he'd definitely prefer the company of a BFF cat brother or sister. Currently, Igloo and Odie are housed together and are becoming more bonded by the day. If you're looking for a compatible pair, double your fun and come meet Odie and Igloo today.
RANGER ROO 
Howdy ho neighbors! My name is Ranger Roo, and I am a stunning 6-year-old brown and black tabby who arrived at the Brandywine Valley after my owner surrendered me. I'm a friendly fellow who enjoys having a good back and forth conversation with my pals. I loved to have my head scratched and will curl up gently next to you. I'm neutered, microchipped and up to date on vaccinations, so please take me home with you for the holidays. I can't wait to meet you.
See Contributors Page http://chaddsfordlive.com/writers/
Comments
comments