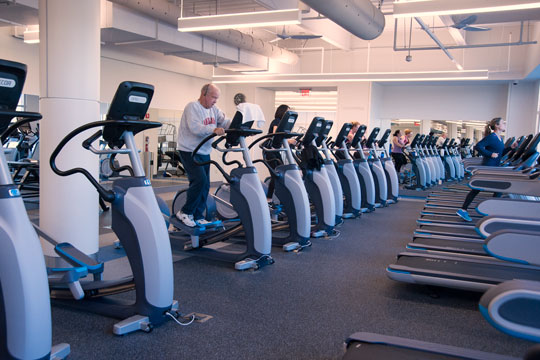 Main Line Health celebrated the opening of its new wellness center in Concord Township with a ribbon-cutting ceremony on Dec. 14.
The lower lobby of the facility was packed for the ceremony, which included a brief talk from John Lynch, Main Line's president and CEO.
Lynch said the center represents an expansion of Main Line's approach to health.
"Our focus at Main Line has been delivering the most advanced medicine to treat and cure disease. But recently, our board changed our vision statement and embraced a much larger vision that I think makes this facility make sense," Lynch said. "That vision, in my words, is that we want to improve the health status of the community."
He continued by saying the gym facilities and the aquatic center are there just for that purpose, to help people improve their health.
There are two workout areas. On the first floor is a strength training room with kettle bells and a Life Fitness station, considered an adult training jungle gym. It has QR codes that enable users to access a variety of videos on specific uses of the unit.
The second floor area is dedicated to general and aerobic fitness with a variety of machines including treadmills, bicycles and elliptical apparatus.
There are also four studios for group fitness and training, as well as a Pilates room.
Main Line's facility has three saltwater pools, a 25-yard, six-lane lap pool with water temperature kept between 79 and 81 degrees, an aqua therapy pool with a water temperature between 89 and 91 degrees, and a hot tub averaging 104 degrees.
Main Line chose the saltwater system because, according to a handout, such systems provide a healthier environment. Some chlorine is still used, but there's no sudden spike in chemicals or decrease in water quality. The salt acts as a cleaning agent that disinfects and neutralizes contaminants.
The facility is open 5 a.m. to 11 p.m. weekdays, and 7 a.m. to 7 p.m. on Saturday Sunday.
There are more than 20 trainers on staff.
Members of the center get nurse assessment every 90 days, a personal trainer evaluation and personalized programming every six to eight weeks. There's also two hours of complimentary childcare with closed circuit television so parents can keep an eye on the kids while working out.
Wellness programs include weight management, cancer and cardiac wellness programs and a diabetic exercise program.
For more information, including membership options, go to http://mainlinehealthfitnessandwellness.com or phone 484-227-7999.

Rich Schwartzman has been reporting on events in the greater Chadds Ford area since September 2001 when he became the founding editor of The Chadds Ford Post. In April 2009 he became managing editor of ChaddsFordLive. He is also an award-winning photographer.
Comments
comments