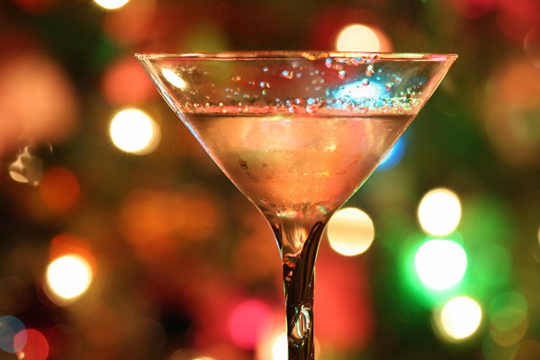 Five Tips for Safer and Healthier Holiday Drinking
If you decide to drink during the holidays, do so in moderation – for the sake of your diet and your long-term health.
The six weeks between Thanksgiving and New Year's are brimming with celebrations that lead to the downfall of many healthy diets. Whether you're trying to lose a few extra pounds or maintain a healthy weight, you'll need a solid strategy – and a good dose of willpower – to make it through the holidays with your waistline intact.
Even the most health-conscious among us often overlook one important part of our nutrition plan during the holidays: what we drink. It may not seem as important as the second helping of mashed potatoes or the extra slice of pumpkin pie you have at Thanksgiving dinner, but holiday cocktails can add a lot of unintended calories to your daily total.
Five Tips for Safer and Healthier Holiday Drinking
The most important thing to keep in mind is that drinking during a holiday meal is not required. You can always skip the alcoholic beverage in favor of water, fruit juice or a sparkling cider if you're in the mood for something festive. If you do decide to indulge, keep these tips in mind.
Follow the "One Cocktail, One Water" Strategy: Alternate between an alcoholic beverage and a glass of water. This will help to reduce the calories consumed, make you feel full so you're less likely to drink more, and it ensures that you won't become dehydrated. Dehydration can lead to headaches, increased blood pressure, fatigue and nausea.
Be Mindful of the Size of Your Glass: Wine glasses and beer mugs are frequently oversized. Keep in mind that a standard-size drink is five ounces of wine, 12 ounces of regular beer, or 1.5 ounces of liquor. All of these drinks contain the same amount of alcohol.
Avoid Mixers: The mixers used in mixed drinks should be avoided if you want to minimize your caloric intake. A standard 1.5-ounce shot of liquor has about 100 calories, but adding a mixer can pack on an additional 100 to 200 calories.
Don't Overindulge: It's easy to overindulge on drinks when you're celebrating, so keep track of how many you've had. Not only will you add more calories with each drink, but alcohol lowers your inhibitions and puts you at greater risk for accidents, arguments, and overeating.
Keep Safety in Mind: If you decide to drink at a holiday party, always make safety your priority. Never drink and drive and always decide who will be your designated driver before the party starts.
How Much Alcohol Is Too Much?
The guidelines for safe and moderate drinking vary from country to country. In the United States, the recommendation for men is no more than one to two drinks per day, or 14 drinks per week; for women, it's one drink per day or seven per week. While there may be some evidence that alcohol consumption in moderation has cardiovascular benefits, the American Heart Association recommends that if you don't drink currently, don't start drinking because there are negative long-term effects of alcohol consumption.
Binge drinking is another common problem during the holidays. It's defined as drinking four or more drinks for women or five or more drinks for men in about two hours. Binge drinking can have immediate and long-lasting negative impacts on your health, leading to injuries, alcohol poisoning, high blood pressure, stroke, cardiovascular disease, and poor control over diabetes.
If you decide to drink during the holidays, do so in moderation – both for the sake of your diet and nutrition, as well as your long-term health.
Medical nutrition therapy is a program designed to help you take control of your nutrition needs. A registered dietitian will assist you in setting personal goals and creating a plan to improve the quality of your life by providing the education you need.
To learn more or request an appointment with a dietician, please visit crozerkeystone.org/Nutrition

Crozer-Keystone Health System's physicians, specialists and advanced practitioners are committed to improving the health of our community through patient-centered, quality care across a full continuum of health services. Crozer Brinton Lake is Crozer-Keystone's comprehensive outpatient care facility in western Delaware County, offering primary care, specialty services, outpatient surgery and advanced cancer treatment. Contact us: 300 Evergreen Drive, Glen Mills, PA 19342 http://www.crozerkeystone.org/Brinton-Lake 1-855-254-7425
Comments
comments