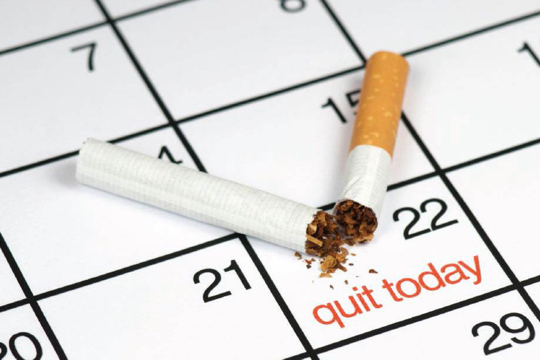 Mark Twain once famously said, "It's easy to give up smoking, I've done it hundreds of times." If you can relate to that statement, you're likely one of the thousands of people who have made the commitment to quit, only to find yourself reaching for a pack of cigarettes once again.
It may seem like an impossible habit to break, and you may have resigned yourself to being a lifelong smoker. However, your health – and the health of the people around you breathing in secondhand smoke – depends on trying again.
The Facts About Smoking
It's a well-known fact that smoking is the leading cause of lung cancer. It's responsible for roughly 90 percent of lung cancers, as well as other lung-related diseases such as emphysema and chronic bronchitis. It's also linked to a variety of other cancers, including mouth, throat, larynx, esophagus, bladder, kidney, liver and stomach.
Perhaps less well-known is that lung cancer is also linked to diseases and disorders such as osteoporosis and cataracts, and puts children breathing second-hand smoke at higher risk for sudden infant death syndrome (SIDS). Statistically, every cigarette you smoke reduces your life expectancy by about 11 minutes.
Nicotine Addiction is Powerful
Facts about smoking – even scary facts like these – can do little to battle addiction, unfortunately. The nicotine found in cigarettes raises the level of a chemical in your brain called dopamine. Dopamine is sometimes called the "pleasure molecule" since it produces feelings of relaxation, reward, and well-being. It's also the same chemical in the brain that is affected by drugs such as cocaine and heroin, and studies have shown that nicotine is just as addictive. This is why it's so hard to quit smoking.
Your Path to Freedom from Cigarettes
You need a solid strategy to help you quit. The following tips and advice may help:
Start with a Quit Date and a Plan: Don't just quit out of the blue. It's better if you set a quit date, like the Great American Smokeout (third Thursday of November) or another date that has significance to you. This will give you time to come up with a plan for what you'll do when you experience the challenges associated with quitting.
Anticipate the Cravings: You will crave cigarettes, so be ready for the temptation. Cravings usually peak about three to four days after you quit, and slowly start to subside after about two weeks. Using nicotine replacement therapy, such as a nicotine patch or gum, or a medication prescribed by a doctor can help to blunt some of your most powerful cravings.
Identify Your Triggers: Certain situations or people may trigger you to smoke. Keeping a journal can help you track and identify these triggers so you can avoid them in the future.
Stay Busy: Being alone with your cravings is the surest way to backslide into your addiction. Stay as busy as you can by picking up a new hobby, exercising or visiting museums, restaurants and other places where smoking is prohibited.
Seek Counseling: Counseling, especially cognitive behavioral therapy (CBT) can help you overcome your addition to nicotine. Ask your primary doctor if you think speaking with a therapist may work for you.
Quitting smoking will be one of the hardest things you go through. If you break down and smoke a cigarette, forgive yourself, make tweaks to your plan to avoid the temptation that led to your relapse, and start over.

Crozer-Keystone Health System's physicians, specialists and advanced practitioners are committed to improving the health of our community through patient-centered, quality care across a full continuum of health services. Crozer Brinton Lake is Crozer-Keystone's comprehensive outpatient care facility in western Delaware County, offering primary care, specialty services, outpatient surgery and advanced cancer treatment. Contact us: 300 Evergreen Drive, Glen Mills, PA 19342 http://www.crozerkeystone.org/Brinton-Lake 1-855-254-7425
Comments
comments