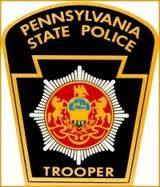 • State police from Troop K, Media barracks, arrested a 53-year-old man from Glen Mills after he reportedly aimed a shotgun at a motorist in Concord Township on Nov. 28. Police said they also obtained a warrant for simple assault, stalking and ethnic intimidation against Joseph Theodore Keenan. According to the report, a 26-year-old man from Philadelphia had been delivering packages as part of his job. He noticed that a man in a red sedan had been following him for hours. The man began yelling racial slurs and eventually used his car to cut off the victim, then the suspect aimed a 12-gauge shotgun at him. The investigation led to Keenan who fled from police, the report said. Keenan rammed one of the police cars that were in pursuit. Police finally were able to get Keenan to stop and he was then placed under arrest. A charge of fleeing to elude police was filed in addition to the charge of aggravated assault. He was arraigned and bail was set at $750,000 for each complaint.
• State police want to remind area residents that thieves will be looking for easy targets during the holiday season. Police suggest keeping valuables out of sight in vehicles and being aware of your surroundings when shopping, especially at night. If you plan to have packages delivered and won't be at home to receive them, consider having them sent to a work address or the home of a friend who is home during the day.
• Troopers from the Avondale barracks said two Delaware County females were found to be in possession of marijuana and drug paraphernalia on Tuesday, Nov. 1, at 12:05 a.m. on Cossart Road in Pennsbury Township. Police said Kerry Ann Cline, 20, of Woodlyn, and a juvenile, whose name was not released because of her age, were charged.
• A Montgomery County woman reported a theft at Longwood Gardens on Saturday, Nov. 5, sometime between 9:30 and 10 a.m., said state police from the Avondale barracks. Police said the 30-year-old Collegeville resident said she set one of her cameras down in the conservatory and noticed about 10 minutes later that it was gone, police said. Anyone with information is asked to call the barracks at 610-268-2022.
• State police from the Avondale barracks are investigating an alleged theft. A Pocopson Township resident reported that on Thursday, Oct. 6, from 8:45 a.m. to 2:45 p.m., two dartboards valued at $350 each were found to be missing after the items had been moved from a storage unit to a new home in Pocopson Township, police said.
• Police are also investigating an incident involving a loveseat in East Marlborough Township. Police said someone threw away a cast iron loveseat belonging to a resident of the 1300 block of West Doe Run Road without the resident's knowledge, sometime between Sept. 20 and 21.
• A case of identity theft is under investigation. State police said on Sunday, Oct. 30, at 1 p.m., a 70-year-old Pocopson Township resident reported multiple unauthorized transactions on her credit card.
• State police said a Kennett Township woman who works at Wendy's in East Marlborough Township reported that cash was stolen from her wallet at the restaurant on Friday, Nov. 18. An investigation is continuing.
• On Sunday, Nov. 13, state police from the Avondale barracks said they observed erratic driving on Route 1 at Millers Hill Drive at 3:26 a.m.  Following a traffic stop, police said Jose Luis Luna, 38, of Kennett Square, was arrested for DUI.
• State police are investigating an incident of criminal mischief, which occurred on Sunday, Nov. 20, at 2:49 p.m. in Kennett Township. Police said the rear window of a vehicle in the 600 block of Cope Road was broken.
• Another alleged incident of criminal mischief occurred in a Pocopson Township development on Tuesday, Nov. 8, at 1:29 a.m. State police said unknown vandals created a disturbance by knocking on doors, setting off car alarms, smashing a decorative plastic pumpkin on one porch, and throwing a rock through another home's window. An investigation is continuing.

See Contributors Page https://chaddsfordlive.com/writers/
Comments
comments