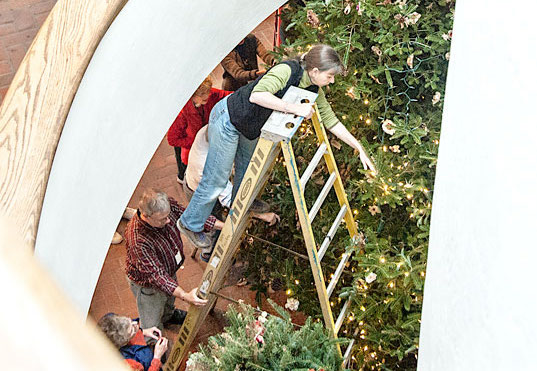 • A Brandywine Christmas, the annual holiday treat offered by the Brandywine Museum of Art, begins Friday, Nov. 25. The yearly event features a gallery filled with a model train display, another filled with dozens of antique dolls, ranging in size from three to 30 inches, along with holiday trees decorated for the season with Critter ornaments. The museum is open late on Thursdays in December, with dinner available for purchase, for a festive holiday evening for the whole family. The Critter sale begins Dec. 1 and continues through Dec. 4. Brandywine Christmas runs through Jan. 8.
• The Chadds Ford Gallery Proudly presents the 35th Christmas in Miniature exhibit beginning Wednesday, Nov. 30, from 1 to 8 p.m. The all-day opening features framed, original art by 84 artists, created in miniature for gifts, for friends, family, home, office, or your own private collection. The exhibit continues through Dec. 31. The gallery is open Tuesday through Saturday 10 a.m. to 5 p.m., Sunday's noon to 5 p.m. For more information, please visit www.awyethgallery.com or call 610-388-2412.
• The Rachel Kohl Library will be celebrating its annual Winter Wonderland on Saturday, Dec. 10 from 3 to 5:30 p.m. Visit the library at 3 to create winter crafts, explore the library and meet staff and members of the Library Board. At 4 p.m., enjoy an interactive Winter Fest Adventure Story with Classroom Adventure Stories. The annual tree lighting will be held in front of the library at 5 p.m. This event is free and open to all ages. Visit kohllibrary.org or call 610-358-3445 for more information. The Rachel Kohl Library is located at 687 Smithbridge Road in Concord Township.
• Darlington Arts Center in Concord Township invites the community to a free Holiday Jam & Open House on Saturday, Dec. 3 starting at 2:30 p.m. The event kicks off with an art gallery and reception at for Darlington teaching Artist Erika Matyok, whose collection of acrylic paintings and photography will be on display through January. There will be free wine and cheese at the reception, which will be followed by a student music recital and the second annual Holiday Jam.
• Brandywine Ballet is continuing its holiday tradition with performances of "The Nutcracker" at the Emilie K. Asplundh Concert Hall on the campus of West Chester University from Dec. 9 through Dec. 18. Tickets are $25, $35, and $45 with senior, university, and group discounts available. Morning performances are $10 for student or senior groups (10 or more), and $18/adult. For times and to order tickets, go to www.brandywineballet.org or by call the box office at 610-696-2711.
• The Academy of International Ballet is presenting performances of "The Nutcracker" at Unionville High School on Saturday, Dec. 10. There will be shows at 2 and 7 p.m. The 7 p.m. show includes Chadds Ford's Azelie Faia dancing as the Snow Queen. Catherine Faia is also in the show. General admission seating is $20. Tickets are available online at www.academyballetru.com or by phone at 866-908-5666.
• Now through Dec. 16, Crozer-Keyastone Health System employees are continuing a holiday tradition with an annual toy drive. Members of the community are asked to help by donating new and unwrapped toys. The Community Action Agency of Delaware County is the beneficiary for the toy drive, so every donation will benefit people in Delaware County. The toys will be donated to children under 15 years old. Appropriate gift ideas for children in this age range include children's books, coloring books, sports equipment, board games, arts and crafts materials, dolls, action figures, building blocks, and puzzles. The local drop-off point in the Chadds Ford area is the main lobby at the Crozer Medical Plaza at Brinton Lake, 300 Evergreen Drive, in Concord Township.
• The Neumann University Center for Leadership is offering a three-hour seminar to instruct elder care providers, attorneys and family members how to warn older Americans about and protect them from computer, direct mail and telephone scams. Registration is free and open to the public, but space is limited to the first 300 registrants. The event is Dec. 2 from 9 a.m. to noon. To register, go here.
• The Kennett Holiday Village Market, a curated, open-air, artisan market filled with unique holiday gift options from local and regional vendors, is poised to debut. Enjoy food trucks, ice sculptures, seasonal craft workshops, music, Christmas tree and greenery sales and one-of-kind holiday shopping at The Creamery in Kennett Square. The Creamery is located at 401 Birch Street, and the market will be open on Saturday, Dec. 3, and Sunday, Dec. 4, from 10 a.m. to 4 p.m.
• The Pennsylvania Emergency Management Agency is now accepting submissions from students in grades 1 through 12 for a poster and video public service announcement contest featuring weather safety messages. The theme for the video contest is "Turn Around, Don't Drown" and is open to all Pennsylvania high school and middle school students in grades 7 through 12, including those attending private, parochial, cyber or home schools. The deadline is Jan. 31.The winner will work with state broadcasters to develop a TV commercial to be aired statewide in March. The theme for the poster contest is "When Thunder Roars, Go Indoors" and is open to students in grades 1 through 6 with a March 7 deadline for submissions. The winning poster will be featured in state parks across the Commonwealth. Detailed information regarding guidelines, eligibility, and deadlines is available online at www.ReadyPA.org/contest.

See Contributors Page https://chaddsfordlive.com/writers/
Comments
comments