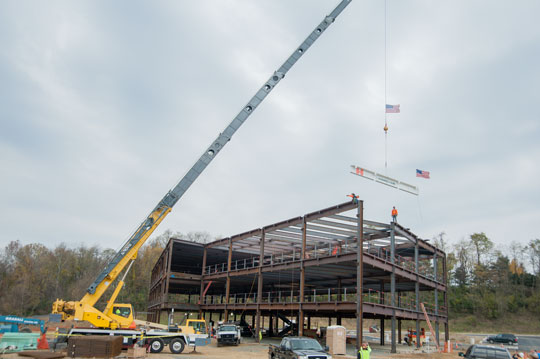 The Henderson Group and Franklin Mint Federal Credit Union held a topping off ceremony for the mint's new headquarters now under construction in the Chadds Ford Business Campus.
A crane hoisted the last steel beam for the roofline into place on Nov. 16 for the building that could be ready for occupancy in June or July.
The building, Henderson 6, is located at the intersection of Dickinson and Hillman drives, across from Evergreen Place. That particular lot was approved for a three-story office building 13 years ago.
Henderson President Brian Coyle said the idea to develop that particular lot dates back almost 50 years when Wilbur Henderson bought the acreage that is now the business campus. He said the topping off ceremony represented a chance to look back as well as forward into the future.
FMFCU President and CEO John Unangst said the new office "brings in a new era and a new image. We're moving into a progressive area where we will meet an expanding market and give our employees a showcase headquarters."
The mint will have the top two floors, and two offices on the ground floor. According to Henderson Vice President Mark Eisenhardt, there are already businesses looking to move into other ground floor office space.
Franklin Mint announced in July that it was moving into Chadds Ford after 20 years being headquartered in Broomall.
Unangst said at that time, "The Henderson Property Group was aggressive in pursuing FMFCU as a tenant. I especially appreciated their receptiveness to our desire for a two-story, glass-enclosed café with grand staircase. The opening of two floors will produce tremendous work flow, communication, and camaraderie among employees."
FMFCU now has $1 billion in assets and 82,000 members. There are 179 employees in the Broomall office, but anticipates adding another 60 within five years.
The credit union is also looking to expand into the state of Delaware.

Rich Schwartzman has been reporting on events in the greater Chadds Ford area since September 2001 when he became the founding editor of The Chadds Ford Post. In April 2009 he became managing editor of ChaddsFordLive. He is also an award-winning photographer.
Comments
comments