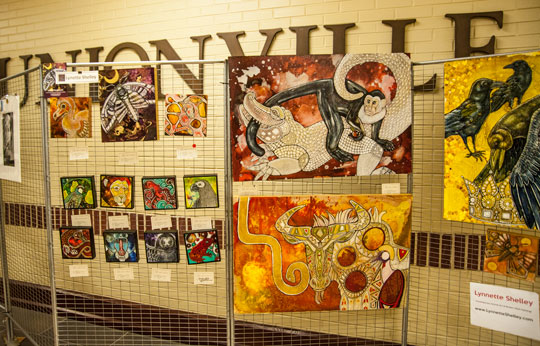 Unionville High School Art Gala is celebrating 41 years. This annual event showcases local working artists, UHS alumni and current student artists. In addition to beautiful artwork, there will be live music to entertain and great food to enjoy. The Art Gala strives to include a variety of artists — both new and more established individuals. The artists, who will be participating, express their talents though diverse mediums including painting, photography, glass, metal and wood.
This year's featured artist is Lele Galer, an artist who works in oil, encaustic and welded steel. She regularly exhibits in numerous shows throughout the year in the Chester County area. Her welded steel work is abstracted forms that reflect the strength and vitality of living things, bound and unbound. Currently she works primarily with the theme of the forest, creating abstracted tree landscapes and color studies in small and large panels. Her colors are a reflection of the passion she feels for her subject matter, whatever it may be, and the colors often take on a life of their own.
"As long as I continue to enjoy the process of a painting, bringing it through from start to finish, then I will keep painting," Galer said in a press release. "I love the element of discovery in each painting, and I never hesitate to paint over an entire piece and start fresh. It has to have some guts in it, or some magic, or else I just don't see the point. That is pretty much how I see life too. My work is an unedited form of self expression, always exploratory and always personal."
The year's event will also feature the work of two current UHS students, Lily Neff-Peterson and Zhenni Liang.
As in years past, there will be a silent auction. This year's selections will include beautiful works of art as well as select regional activities and outings.
The 2016 Unionville High School Art Gala will be held on Friday, Nov. 18 from 6-9 p.m. and Saturday, Nov. 19 from 11 a.m. – 4 p.m. at Unionville High School Art Center, auditorium entrance. Friday evening includes appetizers and live music.
Funds raised from this event contribute towards educational projects and programs that help enhance the overall educational experience for the students at Unionville High School. Admission free.

Comments
comments