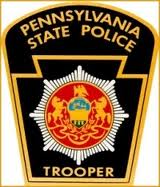 • State police from the Media barracks said harassment charges would be filed against a Chester woman. The report said Robin Minor got into a verbal argument with another woman at Step Above House Cleaning in Concord Township on Oct. 17. During the argument, police said, the suspect pushed the victim. Minor fled the scene before police arrived, but there were witnesses, the report said.
• A New Castle, Del., woman was charged with retail theft after she tried to leave Wegmans without paying for 66 grocery items in her shopping cart. Police identified the suspect as Lori Conley, 48. The total value of the items taken was $480.
• Police cited speed as the cause of a one-car accident in the Acme parking lot in Concord Township. A report said Deanna L. Kretzschmar, 76, of West Chester, was driving at an unsafe speed when she drove over a curb and into an exit door at the supermarket. Kretzschmar and an unidentified passenger were taken to Chester-Crozer medical Center for evaluation, the report said. The accident happened at 12:22 p.m. on Oct. 17.
• A 34-year-old Delaware County man is accused of arson and false reports to law enforcement after a crash occurred on West Road at Upland Road in West Marlborough Township on Thursday, Oct. 20, at 4 a.m. State police from the Avondale barracks said Michael V. Delguidice of Folcroft struck a house with his car and then attempted to set fire to his vehicle.
• State police are investigating an incident of access device fraud involving a 61-year-old Pennsbury Township woman. Police said someone came into possession of the victim's credit-card information and withdrew approximately $3,700 in cash advances from either a PNC branch or automated teller machine in South Philadelphia.
• Someone stole a Delaware license plate from a Hyundai Santa Fe parked on Christy Drive in Chadds Ford Township on Oct. 15. The plate number is PC205771.
• State police charged James A. Finnegan, 37, of Aston, with DUI after a rear-ender accident on Smithbridge Road at Route 202 on Oct. 14. A report said Finnegan was driving west behind two other vehicles that had stopped because of traffic. Finnegan struck the vehicle directly in front of him, impact that caused that vehicle to strike another. Police said Finnegan fled the scene but was located nearby.
• Jennifer King, of Glen Mills, was charged with DUI, according to a state police report. That report said Bethel Township police observed King driving erratically after leaving a gas station in Upper Chichester at 7:40 p.m. on Oct. 13. Officers observed the vehicle cut in front of a tractor-trailer, nearly causing an accident. A traffic stop was made on Route 322 at Featherbed Road in Concord Township.
• A 39-year-old man from Concord Township was the victim of theft sometime between Oct. 9 and Oct. 16. Police said someone stole the catalytic converter from the victim's vehicle.
• DUI and providing false identity charges are pending again Sangay Massa Outland, 40, of Coatesville, according to a police report. Police said Outland was stopped on Route 202 at Oakland Road in Chadds Ford Township at 2:21 a.m. on Oct. 9 and determined to be driving under the influence.
• Police are looking for two women suspected of stealing clothing from the Anthropologie store in Concord Township on Oct. 3. A report said one of the suspects took at least two coats and three shirts and concealed them in a black bag. Police only described the suspects as two black women wearing all black clothing with black head wraps.
• State police arrested Joseph Belville, 31, of Norwood, on charges of invasion of privacy. According to police, Belville installed hidden cameras at his home and at the Cosi Restaurant in the Concordville Town Center and photographed women using the restroom. The incidents covered a time frame from December 2015 to Sept. 26 of this year.
• New Garden Township police arrested Alexander Newcomb, 22, of Newark, for possession of marijuana and paraphernalia following an Oct. 11 traffic stop in the 1100 block of Broad Run Road. A report said Newcomb was stopped because of an equipment violation. Police detected the odor of marijuana in the vehicle. Police searched the car with Newcomb's consent, the report said, and found a "blunt," grinder, glass smoking pipe and a plastic baggie containing approximately three grams of suspected marijuana.  Newcomb was taken into custody and later released pending a court appearance.
• DUI charges were filed against Marques Thompson, 23, of New Castle, following a traffic stop on Gap Newport Pike on Oct. 15. New Garden Township police said Thompson was seen driving erratically. Police noticed the odor of alcohol when they made the stop, a report said. Once processed, he was released pending an appearance in magisterial district court.
• A 36-year-old Toughkenamon woman was charged with assault after she allegedly scratched and punched a man on Oct. 16. New Garden Township police said Gina Cantando was taken into custody and arraigned on charges of simple assault and harassment, then released on $5,000 bail. The incident happened at 3:23 a.m.
• An Exton man was determined to be driving impaired on Friday, Oct. 22, at 2:14 a.m. in West Goshen Township, said state police from the Embreeville barracks. Troopers observed David J. Veith, 49, speeding in the 1100 block of Pottstown Pike, and after a traffic stop, determined that he was under the influence of alcohol. Police also found marijuana inside Veith's 2016 Nissan Altima, charging him with DUI and drug possession.

See Contributors Page https://chaddsfordlive.com/writers/
Comments
comments