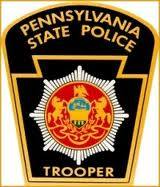 • State police from the Media barracks have issued an arrest warrant for an unnamed suspect in an attempted robbery in Chadds Ford. Police only identified the suspect as a known, 23-year-old white male from Chester. According to a police report, troopers were responding to a call about a robbery at 1682 Wilmington Pike. Upon arrival, the suspect fled into a heavily wooded area. A search revealed nothing, but the victims were able to=identify the man, and a cab driver also provided key information. The incident happened 10:49 p.m. on Oct. 7.
• An 18-year-old Maryland man was cited for his involvement in an Oct. 7 accident on Conchester Highway at Mattson Road. State police said Christopher M. Holden, of Bel Air, Md., was following too closely when he struck another vehicle that had stopped for a red light. No injuries were reported.
• State police are reporting that unknown suspects entered the Garnet Valley Middle School bus parking lot shortly after midnight on Sept. 30 and caused an estimated $500 worth of damage.
• An unidentified suspect is being sought in connection with the theft of an iPad Air 2 from the Staples in Concord Township. The theft took place on Saturday, Sept. 24.
• An unnamed woman from Langhorne was cited for DUI following a traffic stop on Route 202 at State Line Road at 2:10 a.m. on Sept. 24.
• A Wilmington man, 40-year-old Mark T. Murphy, was riding his bicycle on Route 1 in Chadds Ford Township when he rode into a car that was turning right into the parking lot between Antica and Brandywine Prime restaurants. Police said Murphy was riding in the shoulder of the southbound lane when the car turned. He was transported to Crozer-Chester Medical Center for treatment, according to the report. The accident happened at 6:22 p.m. on Sept. 22.
• Abena Vanessa Millette, of Lincoln University, was arrested for DUI and drug possession after being stopped for traffic violations on Route 1 at Cheney Road on Sept. 20.
• Police said Nicole P. Phillips, 19, of Oxford, was following too closely when she struck another vehicle on southbound Route 1 at State Farm Drive on Sept. 12. Phillips sustained minor injuries, but there was no transport to a hospital, the report said.
• Police are continuing their investigation into an Oct. 5 traffic accident on Route 202 that sent two people to the hospital. According to police, the driver of a truck with a car carrier attached was heading north on Route 202 when the driver of a southbound pickup truck, also with a car carrier attached, became distracted, swerved to avoid hitting a vehicle in front, and veered into the northbound lanes. The pickup truck hit the tractor head-on, police said, then ran off the road, went through a guardrail, and partially down an embankment in front of row of shops just north of Applied Bank Boulevard. The driver and passenger in the pickup truck were transported to Crozer hospital for treatment. The accident happened shortly before noon.
• State police from the Avondale barracks responded to a burglary report in Pennsbury Township on Tuesday, Sept. 13, at 4:33 a.m. Police said someone forced entry through an office window in a structure located behind a garage; no items appeared to be missing, police said.
• Two teenagers, a 16-year-old boy from Upper Chichester Township, and a 14-year-old girl from Chadds Ford, were reported missing after taking a car from the 100 block of Painter's Crossing without permission on Sept. 11 at 10:30 p.m. The juveniles were returned home safely at 2 p.m. the next day, and the vehicle was recovered undamaged, police said.
• Police responded to a report of a theft from a motor vehicle on Ridings Way on Sept. 9 and found two other residents who said their vehicles had been broken into as well. Suspects took two GPS units and about $100 in change, a police report said. The thefts were discovered at 8 a.m.
• State police said they cited a 24-year-old Kennett Square man for causing an accident on Route 52 at its intersection with Locust Grove Road. Police said Troy S. Springer was following the vehicle ahead of him too closely when the crash occurred on Sunday, Sept. 25, at 12:02 p.m. No injuries were reported.
• A Chadds Ford woman failed to yield to approaching traffic at the intersection of Route 52 and South Fairville Road in Pennsbury Township on Thursday, Sept. 1, at 3 p.m., said state police from the Avondale barracks. Police said Gail Ahrens, 54, was traveling west on Fairville when she struck a 2011 Toyota Sienna on Route 52. No injuries were reported, but Ahrens' 2012 Mercedes-Benz 350 had to be towed from the scene, police said.
• State police cited a 32-year-old Coatesville man for causing a two-vehicle crash on East Baltimore Pike at McFarlan Road on Friday, Sept. 16, at 9:33 p.m. Police said Melvin L. Lopez Zuninga was traveling eastbound on Baltimore Pike and turned his 2007 Nissan Altima onto McFarlan in front of a 2013 BMW X5, which was unable to stop in time, police said.
• On Sunday, Sept. 25, at 10:59 a.m., Kennett Township Police responded to a two-vehicle crash in the area of East Baltimore Pike at McFarlan Road. Police said a silver Suzuki Vitara that was stopped at the red light struck the rear bumper of a black Infiniti G35 in front of it. Minor damage, but no injuries occurred, police said, adding that the driver, Linda Bledsoe, 65 of Kennett Square, was cited for following too closely.
• Kennett Township said officers responded on Friday, Sept. 23, and Saturday, Sept. 24, between 11 p.m. and 1:30 a.m. after a drone was reported looking into residents' windows in the 400 block of Burnt Mill Road. The drone was described as white, extremely quiet, and approximately 30 to 36 inches wide. Anyone with information is urged to contact Kennett Township Police at 610-388-2874.
• On Wednesday, Sept. 28, at 2:27 p.m., a white GMC U-Haul with a height of approximately 12 feet struck the bridge on East Hillendale Road, which has a 9-foot-6-inch clearance, said Kennett Township Police. The top of the truck sustained severe damage and needed to be towed, but no injuries occurred, police said.  The driver, Gary Kammerer, 65, of Kennett Square, was cited for failing to obey traffic control devices and will have to pay for damages, police said.
• Michael V. Cappalo, 38, of New Castle, is accused of pushing a cart containing two bulk-sized Tide laundry detergent bottles past the cashier at the Walmart in East Marlborough Township and loading them into his vehicle on July 28, said state police from the Avondale barracks. Police said Cappalo was subsequently apprehended and charged with retail theft.
• On Saturday, Sept. 3, at 8:46 a.m. at the same Walmart, state police said a black male who was bald and weighed approximately 200 pounds shoplifted an LED TV and home security system. Police said the man fled south on Route 1 in a white Nissan Altima that had a partially obscured license plate. Anyone with information is asked to call police at 610-268-2022.
• New Garden Township police arrested Tyler Dali, 21, of Newark, with possession of marijuana following a traffic stop near Southhampton Parish Road shortly after 10 p.m. on Sept. 26. A report said police saw a green leafy substance and smelled marijuana. Dali turned over a marijuana cigarette and was taken into custody without incident for possession of marijuana, the report said.
• Jose Aguilera-Pantoja, 35, of Avondale, was arrested on charges of simple assault, harassment, and disorderly conduct following a domestic abuse complaint, according to New Garden Township police. A report said Aguilera-Pantoja and the victim began arguing after he began drinking and doing drugs. Aguilera-Pantoja left the residence, but returned a day later and was taken into custody without incident, police said. He was remanded to Chester County Prison after failing to post 10 percent of his $25,000 bail. The incident happened on Sept. 27.
• New Garden police arrested Lance Read, 37, of Krum, Texas, for DUI following a report of a possibly intoxicated person being in an idling tractor-trailer on Penn Green Road. A report said Read was visibly intoxicated and had a strong odor of alcohol on his breath and person.  Read was taken into custody for DUI. He was remanded to Chester County Prison after failing to post the $5,000 cash bail.
• DUI charges were filed against Evaristo Rodriguez, 47, of New Castle, after police found his vehicle blocking a traffic lane at West Cypress Street and Cedar Springs Road. New Garden police said Rodriguez could not explain why he was parked in the roadway, and he showed signs of intoxication when asked to exit his vehicle. He was taken into custody, arraigned, and released after posting 10 percent of a $5,000 bail.

See Contributors Page https://chaddsfordlive.com/writers/
Comments
comments