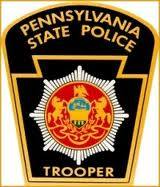 • State police from the Avondale barracks are investigating the reported theft of a Rolex watch. The theft took place in August from a residence on Upland Road in East Marlborough Township.
• Michael P. Brackin Jr., 26, of West Grove, was cited for his involvement in a traffic accident that injured two people on Route 1 near North Mill Road in New Garden Township on Sept. 1, according to state police. A report said Brackin was following too closely when he lost control of his vehicle and struck traveling in front of him.
• On Wednesday, Sept. 21, at 1:40 a.m., New Garden Township Police arrested Christos Tarabicos, 35, Coatesville, for possession of marijuana. A report said officers stopped Tarabicos after he committed a moving violation in the 900 block of Newark Road. In addition to the marijuana, police said they found a container of "clean" synthetic urine, which is used to pass drug examinations. He was processed and released pending his appearance in district court.
• New Garden police said they arrested Brian Fanning, 27, of Kennett Square, and charged him with sale or use of certain solvents and noxious substances, possession of drug paraphernalia and disorderly conduct. The rep[ort said police were responding to a report of an unconscious person inside a vehicle. When they arrived, police said, they found Fanning conscious and alert, but that he had vomited next to his vehicle. He said it was a stomach bug, according to police, but a witness said she saw Fanning holding an aerosol can wrapped in a towel prior to passing out and believed he was "huffing." An aerosol can was found in the vehicle and taken as evidence. He was released pending a court appearance.
• State police from the Embreeville barracks are investigating an incident of identify theft. Police said that between Aug. 5 and Aug. 16, a Newlin Township woman's personal information was used to make several unauthorized purchases and that the suspect attempted to open several store credit cards.
See Contributors Page http://chaddsfordlive.com/writers/
Comments
comments