This Sunday, October 2, from 1 to 4 p.m., Borderland Vineyard in Landenberg hosts the "Paw Printz" family art festival to benefit CompAnimals Pet Rescue.
This event will feature thirteen terrific local artists, live music, family crafts like face-painting, food treats for dogs and humans as well as wine from Borderland Vineyard, located at 332 Indiantown Road in Landenberg.
Attendees are asked to leave pets at home so adoptable dogs can soak up all the attention. Don't worry, you'll go home with treats.  A local doggie bakery Waggies By Maggie & Friends has donated party favors for all attendees.
CompAnimals Pet Rescue's adoption center is located in Landenberg near the event location. This is a no-kill rescue facility that shelters and seeks homes for homeless dogs and cats. The funding for this organization comes from private donations and events such as "Paw Printz" which provide invaluable support for the care or our animals. The staff is 100% volunteer, so all proceeds go directly toward supplies and care for the animals.
Some of the artists in the show include watercolor painter Ginny Schuster, steel sculptor Ellen Durkan, and jewelery artist Cheryl Titcher.  Holly Rybinski, Event Chairperson, says "This is a fun event to get unique holiday gifts early at good prices with the best story: helping animals in need." There will also be crafts for the family, like a special Adoptable Dogs coloring book and face painting for the kids.  Live music will be performed by the fabulous Skip Barthold and Dave Renz, and plenty of food and drinks will be on hand. Go out to Borderland Vineyard this Sunday for a great family art day in support of man's best friend.
CompAnimals is a 100% volunteer-run animal adoption center in Landenberg where many local families have adopted their beloved pets for over a decade. Holly Rybinski fell in love with CompAnimals when she saw what an effort they make to socialize dogs; about a year ago she and her husband adopted their wonderful dog Sherman. This is a heartfelt kind of place that has great local support, but relies on key events, like Paw Print, to provide the necessary financial support to keep this worthwhile organization alive. Leslie Hunt, Founder of CompAnimals expresses "We rescue the ones that truly no one else would, like 18-yr-old Murphy who will be attending the event. The fundraiser is so important due to costs of caring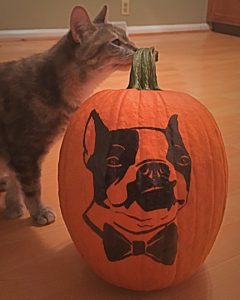 for seniors like Murphy." Many great volunteers help adoptable pets socialize, learn, exercise, eat, and have a safe place to sleep while they await their forever homes. Over a dozen local artists are contributing to the event by showing artwork in person or donating to the ever-popular silent auction.
Ticket price is $25 in advance and $35 at door. Purchase tickets and get more details at www.companimals.org.  Please join us for this fun-filled, art-filled Sunday that benefits a wonderful local animal rescue shelter and makes for a fantastic Sunday in October!

Comments
comments