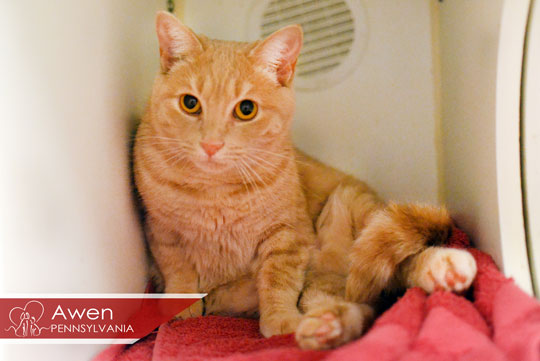 Come meet all the wonderful animals available now for adoption at the Brandywine Valley SPCA. All featured pets are "Name Your Price" adoption fee until Monday, Aug. 29. Not ready to adopt? Then sponsor a pet and provide a safe place for our companions to rest until they find their forever homes. Help us give them a second chance at a fresh start.
AWEN
Hi, my name is Awen and I am a sweet, young, female orange tabby with beautiful orange eyes. I had a large litter of kittens when I came to my foster family (nine altogether) and I took wonderful care of all of them, both feeding them and keeping them very clean. I am a smaller cat, and somewhat shy. When I come to greet you, I respond to petting with a strong purr. I know when it is dinner time, and always return to the crate where the food is served. With time and attention I am slowly becoming less shy when out and about, but I still may need patience and some treats from my new family to fully come out of her shell. Please come meet me. I would love to purr hello.
ATTICUS 
Hi, my name is Atticus, and I am a gorgeous 3-year-old female who arrived at the Brandywine Valley SPCA after my family surrendered me. I am shy but very sweet and very much longer for a home to call my own. I'm unsure of things in the shelter and I am looking for an adopter who has time and patience to allow me to settle in and show them what a wonderful companion I can be. Will you be the one to allow me to blossom?
COALIE
Hi, my name is Coalie and I am a large and in charge pretty female tabby looking for a home. I love nothing more than to lounge around but I will hop up to greet you and enjoy a gentle ear and head massage. I am quiet, sweet and good-natured, and have lived harmoniously with other cats at the shelter. I hope that you come meet me and see what a gem I am! I am spayed, microchipped and up to date on vaccinations so I am ready to pack up my things and go home with you.
PATTY
Hi, my name is Patty, and I am a pretty brindle 3-year-old boxer mix who arrived at the Brandywine Valley SPCA. I'm a bit on the shy side but when I open up you can see what a sweetheart I truly am. I have a silly little smile and I am looking for a family with whom I can smile every day. I think that might be you, so come meet me soon. I am spayed, microchipped and vaccinated, so I am all ready to go
MONNIE
Hi, my name is Monnie and I am just the sweetest guy you will ever meet, and the most adorable. I'm a roly-poly pile of mush who you will instantly fall in love with. I'm gentle, calm and friendly. I'm a peach to walk on a leash and I enjoy leisurely strolls. I will patiently sit when you ask and will never pass up a hug or a cuddle. I make the cutest faces and will never fail to bring a smile to your face. I get along with pretty much anything or anyone — two and four legged. I am neutered, microchipped and up to date on vaccinations. Don't you want to smoosh on my face all day long? Hurry down and meet me.
TAYLOR
Hi, my name is Taylor, and if you look up the word sweet in the dictionary my photo is right next to it. I'm a lovable 5-year-old who is looking for a family to love and care for me. I love people and will do anything to please you. Give me a head scratch or belly rub and we will be fast friends. If you have some toys for me I can keep myself quietly amused. My face may show some scars of a hard life, but my heart is completely open to love. I'm well behaved and truly deserving of a forever family. Will that be you? I'm a staff and volunteer favorite because no matter what, I am always happy to see them. My adoption fee has been sponsored by one of my best two legged friends at the shelter, so please come down to meet me.

See Contributors Page https://chaddsfordlive.com/writers/
Comments
comments