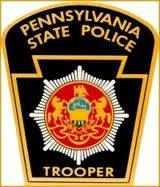 • A motorist who fell asleep at the wheel was cited for driving while privileges had been revoked. State police said Christopher L. Martin Sr., 43, of Coatesville, fell asleep while driving on Hanover Drive in Pennsbury Township at 7:37 a.m. on Aug. 3. The Toyota Corolla he was driving went off the road and struck a tree. A 12-year-old passenger was not wearing a seatbelt and is believed to have sustained a minor injury, though there was no transport. The driver was not hurt.
• An Avondale man was cited after his car ran off the road in West Marlborough Township on Aug. 1. State police identified the driver as Nicholas J. Bacino, 32. According to the report, Bacino was driving north on Route 82 just south of Dupont Road. While negotiating a left curve, the car went off the right side of the road and into a ditch, overturned two times before hitting a fence. There was no EMS transport, but the report said the driver might have sustained a minor injury.
• Police said a 17-year-old from Port Deposit, Md., was cited for driving too fast following an accident on Chatham Road in West Marlborough Township on Aug. 1. A report said the teenager lost control of his car while driving south on Route 841. The vehicle spun 45 degrees and slid into the path of an oncoming vehicle. No injuries were reported.
• New Garden Township Police said they found a small plastic bag containing approximately 14 grams of suspected marijuana in a car that had been stopped for an equipment violation at 7:48 p.m. on Aug. 5. The driver was identified as Darrius El, 24, of Wilmington. El was taken into custody without incident and later released to a family member pending a preliminary hearing.
•  On Saturday Aug. 6, at 8:58 p.m., police in New Garden Township observed a vehicle driving erratically in the 300 block of Line Road.  Officers followed the vehicle and initiated a traffic stop in the 9000 block of Gap Newport Pike, according to a report. The operator was identified as Martin Garcia-Hernandez, 20, of Newark. Passengers in the car were identified as Cristian Gomez-Guerrero, 19, and a juvenile male, also of Wilmington. Police said Garcia-Hernandez exhibited signs of impairment and was taken into custody. Both Gomez-Guerreo and the juvenile were cited for underage drinking and released to a parent.

See Contributors Page http://chaddsfordlive.com/writers/
Comments
comments