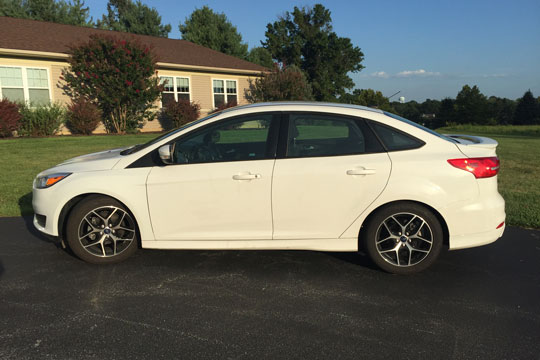 The loss of a car can lead to the loss of a job, which can lead to the loss of a home. That is exactly what happened to one family who is participating in the Family Promise of Southern Chester County program. But thanks to Recycled Rides, a program of the National Auto Body Council, a young dad, mom, and two small children are on the road to self-sufficiency.
Recycled Rides is a program where insurers, car rental companies, collision repairers, paint suppliers, parts vendors and others collaborate to repair and then donate vehicles to deserving individuals chosen by recognized nonprofit charities like Family Promise that provide services, and work directly with at-risk families and individuals.
A donated 2015 Ford Focus has helped to change the life of one Southern Chester County family by giving them what they need to get back and forth to their new jobs and to other appointments. Family Promise is currently working with the family to find affordable housing near their jobs in Kennett Square.
Family Promise is committed to helping children and their families experiencing homelessness in the Avondale, Kennett Consolidated, Oxford, and Unionville-Chadds Ford school districts. Its goal is to help families achieve lasting self-sufficiency and stability by providing shelter, meals, and comprehensive support services through a network of congregations and volunteers until they find sustainable housing.
Family Promise is part of a national, non-profit initiative founded in 1986 with over 200 affiliates across the US. To volunteer, make a donation, or provide services, please contact Family Promise at www.familypromisescc.org or email sminarchi@familypromisescc.org.

Comments
comments