Victory Brewing Company will partner with The Kennett Flash for a beer-tasting, food-pairing, live music fundraiser on Friday, Aug. 19.
The event will include sounds from Philadelphia '60s garage rock act The GTVs and Shadylady, a deejay who will be spinning her vast collection of Motown, soul, R&B and '60s rock to get everyone up and dancing.
Victory will feature at least six different beers with unlimited sampling for those 21 and up. Each beer will be paired with a different appetizer created by Victory's in-house team. The last time Victory came to The Flash, several of the beers sampled were not available in stores or its brewpubs, so expect the unexpected, according to a Flash press release.
The GTVs are led by singer-organist Sam Steinig. Based in Philadelphia, they play a mix of '60s garage rock, soul, R&B and Stax-inspired grooves. The have shared the stage with such acts as guitar legend Dick Dale (Miserlou), Southern Culture on the Skids and members of Blondie, The Fleshtones and The Plimsouls, the release said.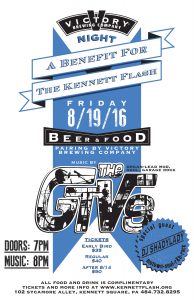 The GTVs have also recorded a live session with 88.5 WXPN's The Key. To watch the video, click here, https://www.youtube.com/watch?v=gMCNIiyER2A
Shadylady hails from North East, Md., and appears regularly all over Delaware, Maryland and Pennsylvania. She is a vinyl-only deejay.  Her venues include 1984, Oddity Bar and Ernest & Scott Taproom. She has been featured in Spark and Out & About magazines. For this event she will be spinning Motown, soul, R&B and '60s music, the release said.
Doors will open at 7 p.m. with beer and food sampling. Live music will begin after 8 p.m., with record-spinning throughout the rest of the event. Proceeds will benefit The Flash, a 501(c)(3).
Tickets, which are $40 apiece through Aug. 17 and $50 thereafter, are available at www.kennettflash.org or www.ticketfly.com. The Kennett Flash is located at 102 Sycamore Alley in Kennett Square.

See Contributors Page https://chaddsfordlive.com/writers/
Comments
comments