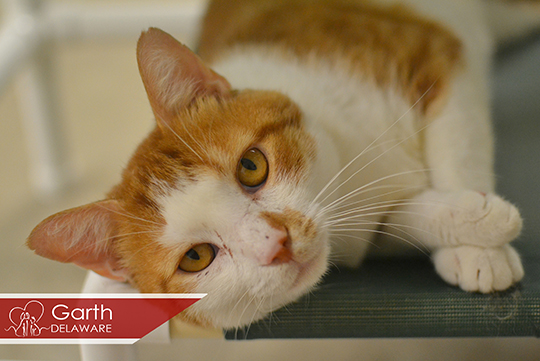 Come meet all the wonderful animals available now for adoption at the Brandywine Valley SPCA. All featured pets are "Name Your Price" adoption fee until Monday, Aug. 8. Not ready to adopt? Then sponsor a pet and provide a safe place for our companions to rest until they find their forever homes. Help us give them a second chance at a fresh start.
GARTH
Hi, I'm Garth. Handsome, right? I'm a 3-year-old, neutered gentleman with looks and personality to boot. Looking for someone to share your morning coffee with ladies, or maybe a dinner date? I'm available to share All of my love with you.
BUTTERS
Hi, I'm Butters, and the name says it all. I'm a goofy, lovable, melt in your lap kind of guy. I'm a handsome 4-year-old boy who has a lot of love to give. I'm always well mannered around other dogs and love to play. I'm currently living with my foster mom and she loves me so much, but she thinks I would be a lot happier with a family that has more time to spend with me. I'm good on a leash and an even better snuggler, so why don't you stop on by and spend some time with me? Add a little butter in your life.
JESSUP 
My name is Jessup and I'm a handsome older gentleman (approximately 12 years young) on the search for the perfect place to spend the prime years of my life. I like people a lot and I'll gladly talk to you or purr affectionately when you give me a pet. I'm a great companion cat and I'd do well in just about any home, but I think I'd really enjoy a quieter home with older or no kids. I'd love for us to get to know each other. Stop in and meet me today.
JADA
 Hi, my name is Jada and I am a 5-year-old terrier mix who arrived at the Brandywine Valley SPCA as a stray. I didn't have the best life before I arrived here but now I am making everyone fall in love with me. Maybe you will be the next to fall? I have soft, sweet eyes that I hope will draw you to me. I sit nicely for my photographs and tilt my head adorably when you talk to me. Come meet me.
PENELOPE 
Just call me Sweet P, because I truly am the sweetest dog you will ever lay eyes on. I have some scratches and scars that only begin to tell the tale of what my life was like before I arrived at the safety of the shelter. While here I am healing, opening up and blossoming. Look into my soulful eyes and you will not be able to resist taking me into your arms and loving me with all you have. Take me home and give me some TLC, and I will be your faithful companion for life. My adoption fee has been sponsored by one of my big fans.
FU MANCHU & CHARCOAL 
We are the best packaged deal you could ever find! When we came to the shelter on April 1, everyone was surprised by our opposite personalities but the love we share is certainly no joke. I, the great Fu Manchu, am a go-getter. I'm an independent man and have no problem doing my own thing. I'm a medium haired, 7- month-old so my curiosity gets the better of me sometimes, but I never stray far from my older sister, Charcoal. She's a year old, short hair and a little shy at first, but once she gets attached there's no turning back.  We've spent a lot of time together but we really don't have too much experience with other furry friends. We are improving though. We'd love a human who could spend some time with us and draw us out of our shells. So if you're looking for a couple of peas in a pod, why not give us a look? I promise we will fill your home and heart with a great big cuddle puddle of love.

See Contributors Page http://chaddsfordlive.com/writers/
Comments
comments