If you're a fan of Elvis Costello, Graham Parker, Nick Lowe, Buddy Holly, British Invasion, Power Pop, Song Craft or Singer Songwriters, The Kennett Flash says it has a show on Sunday, Aug. 7, that you won't want to miss. .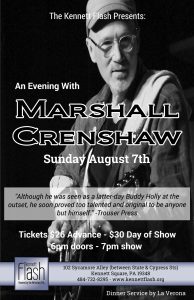 Marshall Crenshaw, who got his first big break playing John Lennon in an off-Broadway company of "Beatlemania" in 1978, is returning to The Flash. In 1987, Crenshaw played Buddy Holly in the Richie Valens biopic "La Bamba." attesting to his versatility. However, it was Crenshaw's own songwriting that has garnered him the most acclaim, according to a Flash press release.
Crenshaw's debut album was praised as a pop masterpiece upon its release in 1982.  The album spawned the Top 40 single "Someday, Someway", which rockabilly singer Robert Gordon scored a hit with a year earlier.  Crenshaw's second album, 1983's Field Day, was another critical smash and led to a successful slate of 30-plus years of studio recordings that offer a fascinating evolutionary journey through an array of musical landscapes, the release said.
A quote in the release from Trouser Press sums up Crenshaw's early career: "Although he was seen as a latter-day Buddy Holly at the outset, he soon proved too talented and original to be anyone but himself."
Crenshaw's most recent studio album, 2009's Jaggedland, is a mix of poignant and incisive love songs and musings on mortality.  Just before that, he ventured back into the film world and penned the title track to the hilarious, critically acclaimed John C. Reilly film "Walk Hard: The Dewey Cox Story"; the track was nominated for both a Golden Globe and a Grammy Award.
To get a taste of Crenshaw's music, visit https://www.youtube.com/watch?v=YKZkhdvSNSI or https://www.youtube.com/watch?v=K-kWVLdqHsY.
Tickets – which are $26 in advance, $30 the day of the show – are available at www.kennettflash.org or www.ticketfly.com. Doors open at 7 p.m. for an 8 p.m. show. BYOB is permitted for $4 at the door (beer and wine only), and dinner service is available from La Verona. The Kennett Flash is located at 102 Sycamore Alley in Kennett Square.

See Contributors Page https://chaddsfordlive.com/writers/
Comments
comments