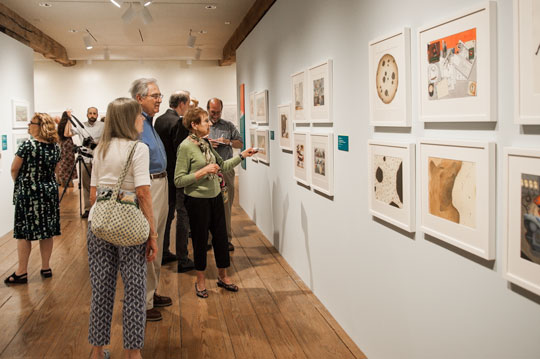 Light summer fare is now showing at the Brandywine River Museum of Art. The new exhibit — "Get the Picture! Contemporary Children's Book Art" — brings illustrations into the 21st century, connecting today's illustrations to Chadds Ford's artistic history.
"The idea was to extend the Brandywine's tradition of illustration, bring it up to the present day," said Tom Padon, the museum director.
That tradition dates back the late 19th and early 20th century with works of Howard Pyle and N.C. Wyeth.
Padon referred to the various works — about 20 in all — as "bold, daring, funny, touching, sad and sometimes even a little dark. These artists create distinct, immersive worlds on the page...The artists are real stars in the world of children's publishing."
The idea for the exhibit, according to Padon, came from Christine Podmaniczky, curator of the N.C. Wyeth collection. She contacted Nick Clark, the guest curator for the exhibit.
Clark chose eight contemporary, award-winning illustrators whose works show broad diversity of style and media. Those styles range from Sophie Blackhall's simple and basic style for the youngest of readers, to a more traditional approach exemplified by Raúl Colón, to the more photographic style used by Bryan Collier.
Clark made his choices to show the diversity in contemporary children's illustration.
"It was an opportunity to show a broad spectrum of styles from traditional pen and ink to every medium under the sun."
He was eager to point out that some had crossed "the digital divide."
Clark specifically mentioned Mo Willems, who animated and wrote for Sesame Street, as well as Jon Klassen and David Wiesner.
He said Willems goes from graphite, pen or charcoal, but then uses the computer to create layers for his finished product.
Clark referred to Wiesner as the "grand old man of the exhibition" but said Wiesner's most recent book is actually an app for computer or tablet.
"He's not afraid of that technological divide," Clark said of Wiesner.
He added that in making the choices for the artists and their work, "We tried to provide points of entry for as broad an audience as we could."
Clark also commented on the art tradition in Chadds Ford and the museum's efforts, not only to to keep that tradition alive, but also to show its growth.
"The Brandywine River Museum of Art has been in the forefront of honoring illustration, which has historically, until recently, been considered the stepchild of the arts. [The museum] was not willing to let that happen. Good illustration is good art," Clark said.
"Get the Picture! Contemporary Children's Book Art" runs through Oct. 9.

Rich Schwartzman has been reporting on events in the greater Chadds Ford area since September 2001 when he became the founding editor of The Chadds Ford Post. In April 2009 he became managing editor of ChaddsFordLive. He is also an award-winning photographer.
Comments
comments