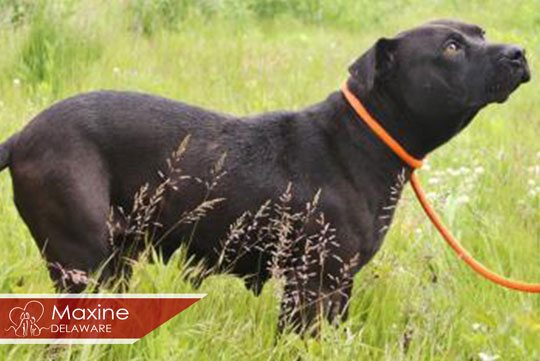 Come meet all the wonderful animals available now for adoption at the Brandywine Valley SPCA. All featured pets are "Name Your Price" adoption fee until Monday, July 4. Not yet ready to adopt? Then sponsor a pet and provide a safe place for our companions to rest until they find their forever homes. Help us give them a second chance at a fresh start.
MAXINE
Maxine? Don't you mean cutest dog you have ever seen? Ha, I'm only kidding, but seriously, I am a pretty cute 4-year-old American pitbull terrier mix who needs a loving furrrrever home. My friends here at the Brandywine Valley SPCA call me a sweetheart and they would know because I have been here since May 7 when I first came to the shelter. I walk well on a leash and am already house trained. I am totally ready for some love. Who could say no to a sweetie like me? Plus, I give free kisses.
TANTO
Help, I'm looking for the Lone Ranger. My name is Tanto, I am 1-year-young and have been at the Brandywine Valley SPCA since April 9. I get along great with other cats but it took me a little while to warm up to people visiting me every day. I think that is why my handsome self has not been adopted yet. But now I am comfortable with my surroundings and even venture out to see what's going on when new people enter into my cottage. Ideally I would like to find someone who is patient, loves to snuggle and does not mind kitty kisses. I also would not mind having another cat as a playmate in the house. Come say "Hi" today and see why the Lone Ranger wanted me as a companion.
ROXY
Hi, my name is Roxy and I am a 2-year-old terrier mix looking for a home to call my own. People can't get over how cute I am- everyone just wants to squeeze my happy face. I don't mind though, because I am a total love bug who loves to give kisses in return. I'm a good listener who knows sit, down and stay, among other things. I enjoy running around the yard playing fetch and also enjoy simply walking with my human friends. I'm very social with people and have a great personality. Let's get together and live life to the fullest.  I'll be right here waiting for you.
JERRY
Just Jerry checking in!  I am an energetic pup who lives for the excitement of playtime but after a few laps and zoomies I love to lay down and relax in the grass. I love getting my speckled butt rubbed and I sit like a champ. I'm a silly, goofy and fun loving dog who is looking for a partner in crime. If that sounds like you, and you are looking for 60 pounds of handsome to be by your side each day, then pick me.
SNICKER
Hi there, my name is Snicker. I'm a pretty, petite, shorthaired tabby looking for a forever home to call my own. I have a quiet, gentle disposition and I'd love nothing more than to hop up into your lap so you can pet me all day long. At 13 years old, everyone thinks I'm a senior citizen, but in my heart, I'm really in the prime of my life and I can't wait to share these fantastic years with my new family. Let's spend the summer together; we'll get along just fine.
BAM
Hey everyone, I'm Bam. I'm a neutered, declawed, 10-year-old male cat ready to settle in with an awesome family. I don't like to brag, but I'm incredibly handsome. In fact, with my short brown and white tabby coat and saucer-shaped green eyes, one might even say I'm irresistible. It's not all about looks though. I'm good-natured, laid-back and enjoy socialization. I've also lived with another cat before, so I'm sure I'd get along with any kitties you have at home. Don't wait too long. Stop in and meet me. I know you're going to love me.

See Contributors Page https://chaddsfordlive.com/writers/
Comments
comments