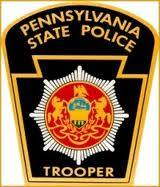 • The driver in a one-car accident on South Creek Road in Chadds Ford was DUI, according to a police report. Police said Jeremiah Acton, 18, of Wilmington, was determined to be driving under the influence when state police found his vehicle overturned in a ditch at 9:25 p.m. on June 16. Acton was transported to Riddle Memorial Hospital for medical treatment.
• State police said Jaclyn K. Giardinelli, 34, reportedly of Chadds Ford, was determined to be DUI following a traffic stop on June 16. The report said Giardinelli was stopped for traffic offenses on Route 1 at Route 322 just after midnight.
• Drivers involved in a two-car accident on Route 1 at Heyburn Road in Chadds Ford were believed injured, but neither was transported for treatment. The accident happened at 9:29 a.m. on Monday, June 13. According to the police report, one driver, identified as Richard O. Grischy, 78, of Chadds Ford, entered Route 1 from Heyburn before it was safe and was struck by a car heading north on Route 1. Both cares were disabled and both drivers complained of soreness, but declined transportation, police said. Grischy was cited for failing to comply with duties at a stop sign, according to the report.
• Police are investigating a May 4 theft at Victoria Secret. A suspect, described only as a black female in her 20s or 30s, stole 10 pair of pants valued at $500, a report said.
• Andrew Nichols, 38, of Glen Mills, and Michael Parinello, 30, of Richmond, Mich., were cited for public drunkenness on June 12, according to state police. A report said they were causing a disturbance in the The Red Stone Apartments on Ellis Drive in Concord Township.
• State police said a 64-year-old Concord Township man was the victim of identity theft on June 11.  A report said someone gathered the victim's personal information, opened a phony credit card account, and then made $18,500 worth of purchases.
• On June 10, Joan Halpin, 33, of Concord Township, was arrested for DUI, a police report said. According to the report, Halpin was stopped for traffic violations at 9:45 p.m. on northbound Route 202 just before Route 1.
• Police said one of the drivers in a two-car accident left the scene of the accident without exchanging information with the other driver. The accident happened at 1:20 p.m. on May 14 on Naaman's Creek Road near Route 202. The unknown driver reportedly crossed the yellow line, causing the accident with the oncoming vehicle. No injuries were reported.
• New Garden Township police said Zachary Dellavecchia, 22, of Landenberg, was taken into custody on DUI charges following an accident that seriously injured the driver of the other vehicle. The accident happened at 9:21 p.m. on June 9. Details of the accident were not given.
• On June 11, Luis Romero-Zurita, 18, of West Grove, was arrested in New Garden Township on multiple counts of aggravated and simple assault, harassment, and disorderly conduct at St. Rocco's carnival. A report said Romero-Zurita was one of three suspects involved in a disturbance, but was the only one who remained on the scene. The report said police asked Romero-Zurita to cease his disorderly behavior as it was in the presence of the public, but Romero-Zurita refused and replied with more obscenities. He was arraigned, and then taken to Chester County Prison in lieu of $7,500 cash bail.
• Lagoberto Espinoza-Reyes, 22, of Kennett Square, was arrested on DUI charges following an incident with two other people on Thompson Road and West Cypress Street, according to New Garden Township police. Police said Espinoza-Reyes blocked a vehicle belonging to one of the victims, preventing it from leaving. He then assaulted both victims, causing a laceration and bloody nose. Espinoza-Reyes was arraigned and remanded to Chester County Prison in lieu of $10,000 cash bail.
• On Monday, June 6, at 4 p.m., New Garden Township police cited three 19-year-olds for trespassing in the 6700 block of Limestone Road. The three were identified as Colby Bidgood, Eric Delano and Brandon Christopher, all from Hockessin. They said they didn't see a no-trespassing sign, according to the report.
• A traffic stop on Baltimore Pike near Chambers Road in New Garden Township led to the arrest of Sergio Cruz-Torres for DUI, according to a state police report. The report said Cruz-Torres was stopped at 10:45 p.m. on June 9 for traffic violations.
• Joseph Searle Hewlett, 19, of Levittown, was arrested in Pennsbury Township for possession of marijuana and drug paraphernalia on June 10 following a traffic stop at 9:31 p.m., a state police report said.

See Contributors Page https://chaddsfordlive.com/writers/
Comments
comments