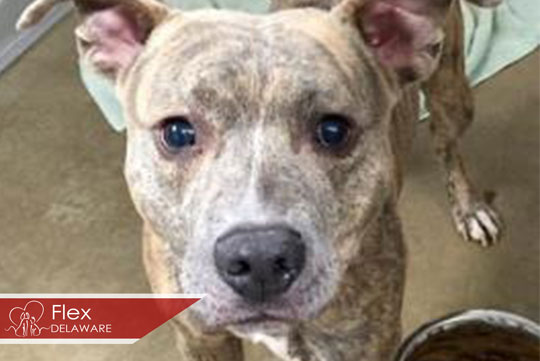 Come meet all the wonderful animals available now for adoption at the Brandywine Valley SPCA. All featured pets are "Name Your Price" adoption fee until Monday, June 13. Not ready to adopt? Then sponsor a pet and provide a safe place for our companions to rest until they find their forever homes. Help us give them a second chance at a fresh start. 
FLEX
At BVSPCA straight Flexin', What up dog? Hey, the name's Flex, and quite honestly I'm perplexed how a great dog like me hasn't found a home already. Walks excite me, I love being outside and playing in the grass, so when we first meet I may be a little shy, but as soon as you take me on a walk I will open up to you. You will not have to put in a lot of potty-training hours with me, and I like giving kisses. Take me for a walk and let's get to know each other.
BOB
Hey. I'm Bob, a 3-year-old domestic short-haired mix. My fur is black and white and I have a cute little black spot on my nose. I have moss green eyes that will entrance you into giving me treats, which I love. Some people think that cats aren't as loving as dogs, but I beg to differ. If you are in the same vicinity as me and have forgotten that I am in the room, I will let you know by nudging my head into your hand, climbing into your lap and making you want to pet me. I have no idea what personal space means with people or other cats so I need to go to a home that shares my same mentality. My ideal adopter would be someone who likes to cuddle and play and pet me all the time because I love attention. A family with kids would be perfect. I am a really awesome cat, visit me today and try to say otherwise!
BOSON
Hi, my name is Boson and if you are looking for a well-behaved pup then I am your man. I am a little timid in the shelter setting but I really open up when I get outside and light up when the tennis ball comes out. I am quite skilled at fetch if I do say so myself. I don't really believe in the term personal space because one of my favorite things to do is to climb in the lap of my friends for pets and kisses. If you have other dogs I would love to meet them, and the sooner the better.  I follow commands and am already housebroken. Let's not waste any more time apart. Come meet me today.
DAFFODIL
My name is Daffodil, most likely because I am pretty like a flower, but my friends say I should be called Miss Wiggles because that is all I do, wiggle. I am just shaking what my Mama gave me. I'm happy day in and day out and I react to everything like it is the best thing that has ever happened to me. I love to play fetch and gently relinquish the ball back to you so we can do it all over again. I know how to sit and I love to sit right next to you while you scratch my ears and rump. My energy and joy is contagious so if you are looking for a little sunshine in your life, I am your girl.
BILLY
 Hello, ladies and gentlemen. My name is Billy. Not to toot my own horn, but I'm a great catch. I'm a strikingly handsome brown and black tabby with a huge personality and a ton of character. I'm very energetic and I love to play and engage with my human friends. One of my favorite things to do is to romp around the shelter's playroom, so I know I'd love the extra space that a forever home would provide. Won't you be my new best friend?
SHAYNA
Hi there – my name is Shayna. I'm a stunning, spayed, 7-year-old Calico with gorgeous green eyes and a quiet personality. My markings are truly exquisite and I know you'll just fall in love with them at first sight. I'm definitely a bit shy and low-energy, so I prefer a quiet, gentle approach. In fact, I'd do best in a quiet home without children. If you're looking to spend your days with a gentle furry friend who has a shy-but-sweet disposition, I'm your girl.

See Contributors Page https://chaddsfordlive.com/writers/
Comments
comments