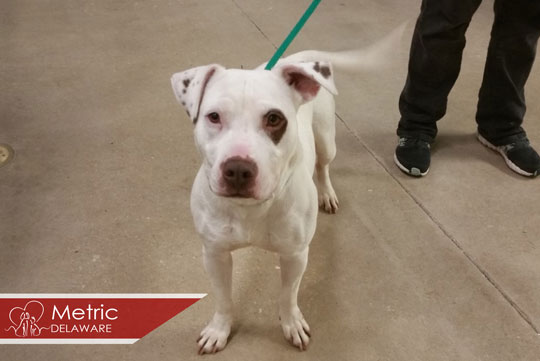 Come meet all the wonderful animals available now for adoption at the Brandywine Valley SPCA. All featured pets are "Name Your Price" adoption fee until Monday, May 30. Not ready to adopt? Then sponsor a pet and provide a safe place for our companions to rest until they find their forever homes. Help us give them a second chance at a fresh start.
METRIC
Hey Americans. Switch over to Metric. My name is Metric and I'm a 3-year-old female American pit bull terrier mix who loves a good snuggle. I'm housebroken, I walk great on a leash and I would do well in a home with older kids. I'm pretty muscular, so an active family would be ideal for me, but I also like to just lounge around sometimes, so I can be your couch potato too. I have an inquisitive personality and I love to be "in the know." I'm very tolerant when it comes to grooming and checkups, so vet visits with me are a breeze. I've been at the Brandywine Valley SPCA for two-and-a-half months now and I like my friends here, but I'm looking for something serious. Come hang out with me today and see why Metric really does make sense!
CHESS
My name is Chess. I'm constantly on the move; almost like the game! I'm 2 years old, weight 7 pounds and I'm a very attractive young lady if I do say so myself. My stay with the BVSPCA has been about two months long and I'm ready for a home I can call my own. I'm very shy, so my ideal home would probably be without children or with someone who will give me my space, allow me to come to them, be patient, and be willing to work with me. Once I warm up to you, I'll let you rub my belly. I also like to be scratched under the chin. Give me a chance. Let's start our game today.
MIZZY
Mizzy, Mizzy, Mizzy, can't you see? Sometimes your words just hypnotize me. Yup, that's me, Mizzy, and what I can't express with words I say with my ever-present smile and happy personality. Spend one minute with me and you will be in love. My happiness is contagious; you won't be able to be around me long without having your spirits lifted. I'm a gentle girl, easy to walk on a leash and play well with my four-legged friends. What are you waiting for? Let's chase rainbows together.
SIMON
Hi, I'm Simon, poster dog for handsome canines everywhere. I'm housetrained; I know sit, stay, down and I shake paws like a true gentleman. I have had good interactions with dogs, don't seem to mind cats, and absolutely love people. I'm a smart boy who listens very well. I love to chew on bones and will do anything for a treat. I'm just an oversized cuddle bug who just wants to love and be loved. I'm looking to break out of this joint for the summer and beyond. Will your family be the one to take me home and love me forever?
ALLEY
My name is Alley and I'm a pretty little lady looking for my forever home. I'm 5 years old and I have a gorgeous dark steel grey coat. My friends at the shelter describe me as being quiet, good-natured, and low-energy. I have a very sweet disposition and I'll definitely hop up on your lap for a cuddle if you'll let me. I prefer to be the only cat around, but I love people. I'd make a wonderful companion for a couple or someone who lives alone. I'm ready to find a place where I can settle in and be loved – Will you be the one to offer me a forever home?
LEONARD
Allow me to introduce myself - my name is Leonard. I'm a handsome young man —1 1/2 years old — on the search for my new family. I have a dashing brown and black striped coat, I'm extremely laid-back and my friends here at the shelter say I have a wonderful personality. I'm very playful and I absolutely love attention — pets, scratches, cuddles — I'll take it all.  While I prefer to choose my own four-legged friends, I can get along with just about any human and would be a good fit for just about any home. Come in and meet me. I just know we'll hit it off.

See Contributors Page https://chaddsfordlive.com/writers/
Comments
comments