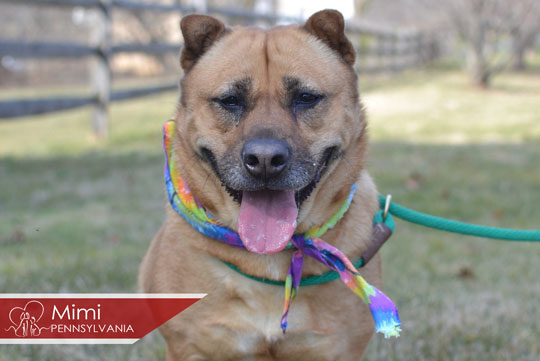 Come meet all the wonderful animals available now for adoption at the Brandywine Valley SPCA. All featured pets are "Name Your Price" adoption fee until Monday, May 23. Not ready to adopt? Then sponsor a pet and provide a safe place for our companions to rest until they find their forever homes. Help us give them a second chance at a fresh start.
MIMI
Please allow me to introduce myself – I'm Mimi. I'm a 4-year-old Shar-Pei mix with a sweet disposition. I spent two years at another shelter before being taken in by the BVSPCA in the hopes that the great people of this area would choose to adopt me. I'm a pretty low-energy girl, but I definitely enjoy doing runs and zoomies in the fenced-in yard. I enjoy ear-scratches, car rides, morning walks and I am housetrained. I have had good interactions with dogs so if you already have a furry friend, bring him to meet me. Summertime is coming – let's enjoy it together.
FIREBALL
Hello – My name is Fireball. I'm a 1 ½ year old tabby with a beautiful, blazing orange coat which I'm told is very soft. I'm a little shy, but give me a minute to warm up to you and I'd be more than happy to enjoy a pet or two. I've made some great friends since I arrived at the shelter in late April, but I can't wait to find a place to call home sweet home. Stop in and meet me. I'm ready to meet you.
CIROC
Ciroc checking in. If my strikingly handsome good looks haven't already convinced you to come meet me, wait until you hear how smart I am. I know many commands, such as sit, stay, down, shake, roll over and play dead. Your friends will undoubtedly be so impressed with how well I listen, what a great dog I am and my fun party tricks. I am calm indoors and can amuse myself playing with toys, but my favorite indoor activity is cuddling with my favorite people. I have a great personality that is silly and sweet. I'd love for you to give me a chance – so come see me soon.
JINX
Greetings. My name is Jinx. If you're not already mesmerized by my gorgeous green eyes and dashing good looks, maybe I can melt your heart with my sweet-as-pie disposition. I love spending time with my friends at the shelter, but hope you'll come in and take me to my forever home. I know it's going to be great.
TORCH
Torch is my name and playing is my game. People love the way the sun hits my brindle coat when I run. And I dream every night of romping around and frolicking in a big yard with my new forever family. I can see it now, we are the perfect match. Some people are awed by my size, but I am just one big ol' cuddle bug. Come give me a treat and a hug and I'll be your new best friend. Let's play!
BERTHA
My name is Bertha. I am pretty much a kitty model and am so photogenic, even if I do say so myself. I enjoy playing kitty games, but I find that my all-time favorite activity to do is take some catnaps and sun bathe until the cows come home. My pals here describe me as being a really loveable, silly and cuddly young lady. What can I say? Cuddling goes hand in hand with my naps. Come meet me in person, I would love to meet you and finally have a place to call home.

See Contributors Page https://chaddsfordlive.com/writers/
Comments
comments