District 97, a Chicago-based, progressive rock act is coming to the Kennett Flash on Wednesday, May 18 – the acclaimed group's only Philadelphia area show of its current tour.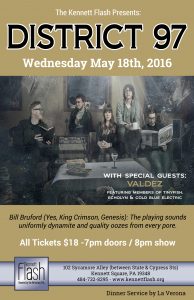 Featuring vocalist Leslie Hunt, a top 10 female finalist on American Idol in 2007, as well as drummer Jonathan Schang, who placed in Modern Drummers 2012 list of best up and coming drummers, District 97 is currently on tour in support of their third studio album, "In Vaults." The tour recently took them throughout the United Kingdom, Germany and The Netherlands, according to a Flash press release.
District 97's second album, released in 2012, featured King Crimson, UK and Asia vocalist and bass player John Wetton. The band then toured with Wetton throughout Europe and the U.S., opening the show with a District 97 set and closing the show backing Wetton on a set of King Crimson classics which were sung by both Wetton and Hunt. After this 2014 tour, the band was nominated for a Breakthrough Artist Award by Prog Magazine, the release said.
Wetton has said of the band, "I maintain that District 97 is the best young progressive band around right now. Gifted players, great material, and a brilliant, charismatic singer in Leslie Hunt."
Jim Dergatis of National Public Radio's "Sound Opinions" show has said, "District 97 is a wildly ambitious progressive rock group whose youth belies its accomplishments onstage and on CD."
District 97 will be joined at the Flash by area Progressive Rock group Valdez. Valdez features Simon Godfrey of the UK group Tinyfish, on lead vocals and guitar, as well as Tom Hyatt on bass and vocals.
To watch District 97 live from The Netherlands, click here.
On Wednesday, doors will open at 7 p.m. for an 8 p.m. show. Dinner service will be provided by La Verona with a $4 BYOB charge (beer and wine only). To purchase tickets, which are $18, visit http://www.kennettflash.org/event/1098019. The Kennett Flash is located at 102 Sycamore Alley in Kennett Square.
See Contributors Page http://chaddsfordlive.com/writers/
Comments
comments