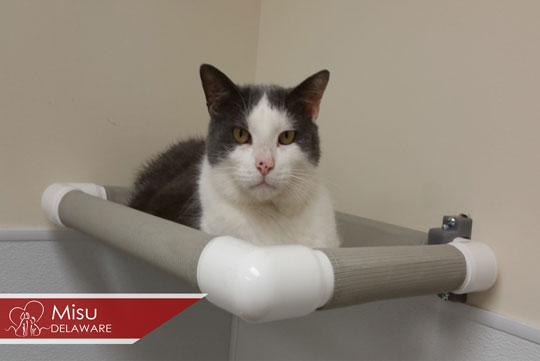 Come meet all the wonderful animals available now for adoption at the Brandywine Valley SPCA. All featured pets are "Name Your Price" adoption fee until Monday, May 9. Not ready to adopt? Then sponsor a pet and provide a safe place for our companions to rest until they find their forever homes. Help us give them a second chance at a fresh start.
MISU
Me so cute. My name is Misu, I have been at the Brandywine Valley SPCA since Jan. 16 when I came in as a stray, I am an 8-year-old grey and white domestic shorthaired mix. Since I have been at the shelter, I have definitely broken out of my shell because I love to explore. If curiosity is a crime than I am guilty. I love to see what is going on around me and enjoy wrapping myself in between your legs to get your attention. Treats aren't necessary to get me to warm up to you but if you want me to love you then keep them coming. I am a pretty laid back cat and when I've had my fill of exploring you will find me in a nice sun patch snoozing or just simply watching the action. I like to cuddle so if you're a cat cuddler you will soon be a Misu cuddler. Take me home and discover true love with me.
Click HERE to learn about all of our cats at our Delaware Campus
Fu Manchu and Charcoal 
We are the best packaged deal you could ever find. When we came to the shelter on April 1, everyone was surprised by our opposite personalities but the love we share is certainly no joke. I, the great Fu Manchu, am a go-getter. I'm an independent man (cat) and have no problem doing my own thing. I'm a medium haired 7-month-old so my curiosity gets the better of me sometimes, but I never stray far from my older sister, Charcoal. She's a one-year-old short hair and a little shy at first, but once she gets attached there's no turning back. We've spent a lot of time together but we really don't have too much experience with other furry friends – we are improving, though. We'd love a human who could spend some time with us and draw us out of our shells. So if you're looking for a couple of peas in a pod, why not give us a look? I promise we will fill your home and heart with a great big cuddle puddle of love.
Click HERE to learn about all of our cats at our Pennsylvania Campus
Darcy 
Everyone here thinks I am a Super Girl, so who am I to argue? I think the nickname came from my amazing recovery when I first got to the shelter.  I've put on some weight, gotten healthy, and now my personality is really shining through. I think I would thrive in a quieter home where I could be the apple of someone's eye. I love to be loved, and I graciously give it in return. I'm great on a leash and with my medium energy level I'd be a great companion for long walks and together naps. Check out my big beautiful ears (I look like I am about to take flight) and try not to fall in love. Come on in to the shelter…I'm waiting for you!
Titan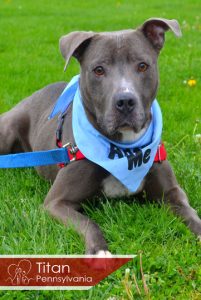 The tail wagging Titan, at your service.  Everyone feels like they have hit the lottery upon meeting me – I really am that awesome of a dog.  I'm a low-key guy with a medium energy level who's up for whatever makes you happy. I get along with other dogs, kids, men and women, well pretty much anything that breathes. The other day I went to a festival filled with all sorts of two- and four-legged beings and I positively rocked it – nothing bothered me at all. I'm excellent on a leash and love to go out for nice, easy strolls as long as I can take a break every now and then to roll around in the grass. Hey, you have to stop and smell the roses every once in awhile, right? I know sit, down, and I listen like a champ. I'm an all-around amazing dog who loves hugs and kisses. If you are looking for a dog to fit wonderfully into your life, may I suggest taking a look at me?  I know I am just what you are looking for.
Click HERE to learn about all of our dogs at our Pennsylvania Campus.
Butterbean
Butterbean is my name and fun is my game. I am an active one-year-old, wheat colored terrier mix ready to run and play. I am not going to admit that I need training, but I wouldn't mind being taught some new tricks. I am potty trained and rarely go in my kennel, I prefer to use outdoor facilities. Treats are a great way to get me to do what you want. I love them, especially meaty treats. I get along well with other dogs and do well with kids but I'm not a big fan of cats, but hey are dogs supposed to be? I'm seeking a home with a passion for play and exercise to wear me out. Come visit me, come adopt me, let's make this happen.
Click HERE to learn about all of our dogs at our Delaware Campus.

See Contributors Page https://chaddsfordlive.com/writers/
Comments
comments