As scientists find more evidence that drugs have infiltrated area waterways and as police respond to more opiate overdoses, the safe disposal of unwanted medication is more important than ever.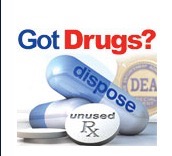 On Saturday, April 30, area residents will have several opportunities from 10 a.m. to 2 p.m. to do just that during a National Drug Take Back initiative, a partnership between the Drug Enforcement Administration and local police departments.
Ridding medicine cabinets of potentially dangerous, expired, unused, and unwanted prescription drugs prevents them from getting into the hands of those who might abuse them as well as ensuring that they don't pollute sources for drinking water.
Among the scheduled sites for disposing of pills or patches (liquid medication cannot be accepted) are the Kennett Township Police Department, 801 Burrows Run Rd.; the Media barracks of the Pennsylvania State Police, 1342 W. Baltimore Pike; and the New Garden Township Police Department, which will be operating at the Giant supermarket at 350 Scarlet Rd. in Kennett Square.
According to the DEA, new sites are being added daily. To review a complete list, click here.
Last September, Americans turned in 350 tons (over 702,000 pounds) of prescription drugs at more than 5,000 sites operated by the DEA and more than 3,800 of its state and local law enforcement partners.  Overall, in its 10 previous Take Back events, DEA and its partners have taken in over 5.5 million pounds-more than 2,750 tons-of pills, according to the DEA.
The DEA points out that this initiative addresses a vital public safety and public health issue. Medicines that languish in home cabinets are highly susceptible to diversion, misuse, and abuse. Rates of prescription drug abuse in the U.S. are alarmingly high, as are the number of accidental poisonings and overdoses due to these drugs.
Studies have shown that a majority of abused prescription drugs are obtained from family and friends, including from the home medicine cabinet. In addition, Americans are now advised that their usual methods for disposing of unused medicines-flushing them down the toilet or throwing them in the trash-both pose potential health hazards.
For more information about the disposal of prescription drugs or about the April 30 Take Back Day event, go to http://deadiversion.usdoj.gov/drug_disposal/index.html.
See Contributors Page http://chaddsfordlive.com/writers/
Comments
comments