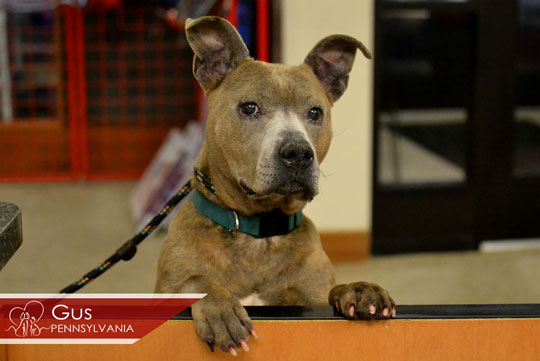 Come meet all the wonderful animals available now for adoption at the Brandywine Valley SPCA. All featured pets are "Name Your Price" adoption fee until Monday, May 2. Not ready to adopt? Then sponsor a pet and provide a safe place for our companions to rest until they find their forever homes. Help us give them a second chance at a fresh start.
Gus
One look at my handsome, distinguished face and you can see that I'm a little older than some of the other dogs at the shelter, but that just means I've developed extra sweetness and smarts. I have the mischievous twinkle of a younger dog but the manners of a mature guy who knows the value of a good nap. I'm an intelligent chap who knows commands like sit, stay and down. I love to cuddle up on blankets and roll around for belly rubs. I enjoy playing with toys and you will certainly enjoy watching my cute antics. I've become a joy to take on my daily walks because I have learned to heel right next to you. I'm the real deal, a happy, loving guy just looking for a family to call my own. Are you the family whose life I will complete?
Cleopatra
Cleopatra, Queen of the Shelter, but you all can call me Cleo. I'm pretty laid back like that. I'm a gorgeous 6-year-old American bulldog who absolutely loves people, even if my adorable droopy jowls don't show it. I love spending time outdoors and would lie in the grass and soak up the sun for hours if I had the opportunity. I'm well trained; I know sit, stay, paw and down and I am housebroken. What I am best at is cuddling — just let me lay my head in your lap and we both will be happy. If you stop petting me before I am ready, I will let you know by putting my paw on your arm and pulling your hand back to me. I'm looking for a family who will love me, and who I can love right back. Might that be you?
Otter
Yes that's my name and no I'm not pulling your leg. I am an amazing 4-year-old white and brown terrier mix, with a wonderful ability to give lots of love and attention. I walk really well on my leash and am crate trained. Did I mention I'm great with other canines and kids? Well I am. I have been working on my doggy commands and as of right now I know sit and paw. It's a work in progress but with the right kind of treats I'll learn just about anything. I love to be active outside and then crash at home after, so all my active people to the front of the line please. Won't you consider adding me to your family? Stop by the shelter today and lets make this happen!
Jazz 
Hi lovers of music, my name is Jazz and yes I have musical soul baby. I'm a young 2-year-old grey short haired tabby that is in some serious need of a place to lay down some tracks. My pals here have named my Chipmunk since my cheeks are rather large from my long nights playing my saxophone. I have been told that you can see my soulfulness through my eyes and natural curiosity to watch the world. I love my human and feline friends and appreciate the attention I receive for being great. I am a shy guy, ladies, and only let loose when I play so if you're interested in a solo act like me swing by the shelter today, tell them Jazz sent ya.
Butterscotch
Hello ladies and gents, my name is Butterscotch and yes I am as sweet as I sound. Came in as a stray on April 5 and have acclimated well all things considered. My pals here named me after my gloriously cool butterscotch colored & white coat. I am a very active guy that loves to hunt, love playing with my toys and go nuts for that laser thingy. I love attention and am naturally a social butterfly. Looking for a cuddle buddy? I'm your guy. My bags are packed and I wait for you.
Teddy
Hi folks, my name is Teddy. I'm a 5-year-old domestic short haired black and white stud, if I do say so myself. I came in as a stray and have slowly begun to adjust to my new surroundings. I am very shy and quite like a ninja. I tend to be a little on the independent side, but will totally come get some loving when the time is right. Trust is a big thing for me and I know you can relate to that. Won't you come by the shelter and ask for me? Who knows we may just end up living a life of bliss together.
See Contributors Page http://chaddsfordlive.com/writers/
Comments
comments