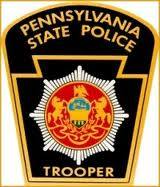 • An April 19, three-vehicle accident in Concord Township left one driver injured and cited for careless droving. A police report said Steven K. Steel, 28, of Elkton, Md., suffered a medical condition that left him unable to stop before striking a vehicle that was already stopped for a red light at Route 202 and Naaman's Creek Road. That second vehicle hit another vehicle in front of it.
• Christopher Edwin Vega, 24, of Felton, Del., was determined to be DUI after he was stopped for numerous traffic violations, a police report said. The traffic stop was made April 24 at 2:44 a.m.
• A three-vehicle, rear-ender accident left one driver injured and another cited for careless driving. State police said Jennifer L. Paolella, 40, of Media, was cited in the April 21 accident when she failed to stop for traffic and hit a second vehicle, which, in turn, hit a third. The driver of the second vehicle sustained minor injuries, the police report said.
• On April 21 at 2:35 a.m., Kyle Esray Baker, 24, of Glen Mills, was determined by Pennsylvania State Police to be driving under the influence, a police report said. The arrest was made at the Brinton Lake Wawa in Concord Township.
• Lasana Wesseh Fofanah, of Newark, was arrested for DUI following an April 10 traffic stop on Route 202 at Smithbridge Road, a police report said. The traffic stop was made at 2:51 a.m.
• New Garden Township Police arrested a Delaware man in connection with a series of thefts at 4:17 a.m. on April 11. According to a report, police arrested Brandon Buckman, 28, of New Castle, after they spotted a package with another person's address and he was unable to explain why the package was in his vehicle. It was later determined that the packed had been removed from the victim's porch without permission. After obtaining a search warrant, police said they found other stolen items in Buckman's vehicle. Buckman was arraigned on charges including DUI, theft, and related offenses. He was remanded to Chester County Prison after failing to post $7,500 cash bail.
• Samuel Espinosa-Delgado, 36, of Avondale, was arrested for DUI and resisting arrest after New Garden Township Police observed the vehicle he was driving cross a double yellow line in the 8900 block of Gap Newport Pike at 11:43 p.m. on April 15. According to the police report, Espinosa-Delgado almost struck a patrol car head-on. Police said he was uncooperative, attempted to flee from the officers, and had to be restrained.
• State police are investigating the theft of an MIT class ring and two sets of earrings believed stolen on April 2 during a residential move on Heyburn Road. The items were taken from a box in the master bedroom.
• A Springfield Township woman was transported to Riddle Memorial hospital after a one-car accident on Kirk Road in Concord Township. Police said Kathleen M. Carroll, 60, lost control of her car and hit an embankment. She was cited for driving at an unsafe speed, the report said.
• Driving at an unsafe speed is also believed t be the cause of an April 20 accident on Naaman's Creek Road. Police said they cited Carl B. Douglas, 50, of Garnet Valley, after he rear-ended another vehicle that had slowed for traffic at 8:49 a.m. The victim was injured, but there was no transport, police said.
• Gerard Goubeaud, 37, from New Castle, and Dorothy Livesay, 39, of Middletown, Del., were arrested for retail theft, according to a police report. Police said loss prevention employees at Wegmans caught Goubeaud and Livesay stealing $62 worth of merchandise from the Chadds Ford store on April 21.
• Len Roberson, 24, was arrested for DUI and possession of marijuana after a traffic stop on Route 202 in Concord Township on April 9, a police report said.
• State police filed DUI and drug possession charges against Robert Martin Fell, of Wilmington, following an April 8 traffic stop on Route 202 at Hillman Drive. A report said he was stopped at 1:47 a.m. for traffic violations and determined to be driving under the influence and in possession of marijuana.
See Contributors Page http://chaddsfordlive.com/writers/
Comments
comments